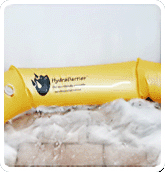 Destin, FL (PRWEB) December 10, 2012
After the recent hurricanes in both the Southeast and Northeast, flood prevention has become a front-and-center issue with government organizations, businesses, and homeowners across the country. Disaster Relief Supply, an emergency preparedness retailer, sold a record number of flood prevention products including sand bags and space bags for hurricane preparations this year, and is hoping to increase those numbers by becoming a complete dealer of Watershed Innovation products.
Watershed Innovation is a manufacturing company based out of Capitola, CA, and specializes in flood prevention products like the "Hydrabarrier". Hydrabarriers are water-filled tubes that work as an easy, effective, and reusable sandbag alternative, and have risen to popularity in recent years after an increased consumer demand due to greater storm damage across the United States.
By offering a full line of Watershed Innovation products, Disaster Relief Supply will become an East Coast distributor of the Hydrabarrier line. This will equate to less shipping time for consumers seeking their products in the Eastern United States. The Disaster Relief Supply website, http://www.disasterreliefsupply.com, will be offering the same retail prices as Watershed Innovation for the Hydrabarrier product line, including quantity discounts and free shipping.
For more information on the Hydrabarriers please click here!
For more information on Watershed Innovations, visit their website at http://www.hydrabarrier.com/index.htm