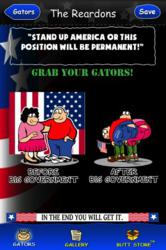 (PRWEB) December 10, 2012
A new iPhone app called GotchaGators pokes fun at big government and is now $0.99 in the iTunes App Store.
Users of the app can choose one of a variety of characters in cartoon style to go with one of more than 400 phrases, such as:

"Big gov't getting bigger…size does matter!"
"Born free…taxed into slavery!"
"Thanks Mom & Dad for the debt…and we can't even vote yet!"
"Stand up America or this position will be permanent!"
"It's election time, which way are you leaning?"
"America open wide…Obama's here to divide!"
The cartoons depict characters of all nationalities and ages from behind, bending over in response to government policies. There are a variety of cartoon families to choose from, including:
The Backsters
The Schtuppens
The Cliches
The Aztecas
Some cartoons can have faces or backgrounds replaced with photos from the iPhone's camera. Users can then e-mail or share their resulting cartoons on Facebook.
The term "gator" is a slang term for a gaiter, a garment made of waterproof material covering the leg from the instep to the ankle or knee. In order to "Grab Your Gators," as the app exhorts, one must bend over.
The app is an extension of the GotchaGators brand, which has its home at GotchaGators.com. There, and within the app, users can purchase their favorite T-shirts, mugs, stickers, and other products emblazoned with the phrase of their choice.
Curtis Colligan, founder of GotchaGators.com, says on his website, "We've put a humorous spin on a very sad and serious situation." He characterizes his company as "Concerned conservatives on this end, who only seek and wish to continue what our Founding Fathers had in mind and intended." He cites the beginning of the Obama administration as his inspiration to start GotchaGators.com in 2009.
This app was developed by Zco Corporation, one of the largest app developers in the world.