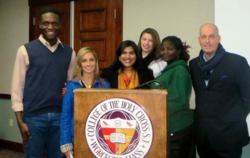 We are honored to launch our Campuses Against Bullying Initiative beginning with the College of the Holy Cross. Ivy Child guides student leaders and campus officials paving the path to educate the community and take a stand against all forms of bullying.
Worcester, MA (PRWEB) December 10, 2012
The "Bullying Prevention and Intervention" discussion, conducted by Pavlov, was hosted on the campus of the College of the Holy Cross and led by Kody Onyiuke and Danielle Dimond, both Holy Cross students and interns for Ivy Child International.
Pavlov began developing bullying prevention and designing curriculum-based workshops "in response to the stirring international conversation around rising incidents of physical violence, verbal abuse, and cyber taunts among youth across the globe."
Ivy Child collects data from Massachusetts area schools and beyond to track the effects of bullying on children from a multicultural perspective and use the information in the "Bullying Prevention and Leadership" premier program. At the symposium at Holy Cross, students from a Worcester, MA area high school gave real testimonies on their personal experiences with bullying and the benefits of having their charter school host an Ivy Child multi-week workshop.
Ivy Child International is a global leader in trans-cultural and trans-generational bullying prevention and leadership education and has developed a research-based curriculum offered as Teen Conflict Resolution Workshops as one of several programs offered through Ivy Child's Leadership and Training Institute.
For more information about Ivy Child's premier programs, or to host a "Bullying Prevention and Leadership" workshop, please contact Rose Pavlov at rpavlov@ivychild.org.
-------
The Ivy Child International non-profit organization provides cross-cultural positive psychology services to children, families, and communities worldwide. The Ivy Child mission is to help each child achieve their best by recognizing and enhancing their unique strengths and abilities and provide guidance and instruction on creating a healthy child-centered environment to families, caregivers, educators, and international communities. Rose Pavlov is a cross-cultural positive child psychology specialist and the founder of Ivy Child International. Cross-cultural positive psychology investigates how cultural factors influence positive behavior.
Contact:
Rose Pavlov
rpavlov(at)ivychild(dot)org
P.O. Box 63
Worcester, MA 01613
Ph: 508-299-7905
Fax: 508-300-7755
http://www.ivychild.org
Facebook.com/IvyChild
Twitter.com/IvyChild
Linkedin.com/company/ivy-child-international
####