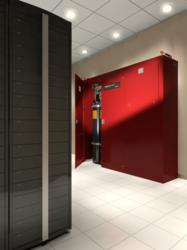 EASTON, Pa. (PRWEB) December 13, 2012
Victaulic, the leading global producer of mechanical pipe joining and fire protection systems, introduces the Victaulic Vortex® 500 Fire Suppression System, designed specifically for information technology spaces such as data rooms and server spaces. This innovative technology utilizes both water and nitrogen in a combined suspension to both cool the hazard area and remove the oxygen that sustains the fire using high velocity and low pressure. The swirling distribution fills the hazard space at 40 MPH and quickly extinguishes the fire with little to no water presence.
"The Victaulic Vortex 500 system provides an innovative, safe and effective fire protection solution for information technology equipment areas and motor control centers," said Tom Savage, product manager for Victaulic fire suppression. "The unique hybrid technology releases a water droplet of around 10 microns in size, eliminating any appreciable wetting of equipment or surrounding space. These ultra-fine water particles feature heat-absorbing surface area 90 times greater than those generated by standard sprinklers."
The Victaulic Vortex 500 system extends the boundaries of existing technologies providing supreme protection and fire suppression with limited residual moisture, no toxic chemicals and full design flexibility. The system can be utilized in a sealed or open space with no requirement of room integrity and can be rapidly reset after discharge to minimize facility downtime.
Additionally, the system seamlessly integrates with alarm and detection systems as well as facility security technology, and unlike other technologies that use toxic agents, can activate immediately upon detection of a fire without having to wait for evacuation.
This unique technology is 100 percent green and its' homogenous suspension discharge is identified by the Environmental Protection Agency's SNAP approval as a suitable replacement for Halon 1301.
Building owners and operators of information technology spaces will benefit from the system's flexible self-contained design, 100 percent green technology, minimal water presence, effortless clean-up, economical recharge, immediate activation and no need for room integrity.
The Victaulic Vortex 500 system is currently only available in North America.
About Victaulic
Founded in 1925, Victaulic is the world's leading producer of mechanical pipe joining systems. Headquartered in Easton, Pa., Victaulic has manufacturing and distribution facilities worldwide and employs more than 3,500 people. The company develops products and services for some of the world's most demanding markets, including oil, gas and chemical; mining; power generation; water and wastewater treatment; and military and marine systems; as well as commercial building and fire protection applications. Keep in touch with Victaulic on Facebook, Twitter or LinkedIn.