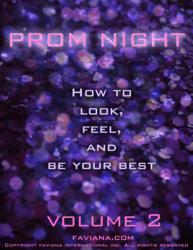 New York, NY (PRWEB) December 07, 2012
Prom Night: How To Look and Be Your Best Volume II is filled with fun articles and helpful hints on preparing for prom in categories including: Plot Your Prom, A Timeline to Help You Prepare; Budgeting, Where to Splurge and Where to Save; Questions of Length – Mini or Maxi; Girl's Guide to Color; Cosmetic Urgency, featuring fun beauty tips; Travel Tips; Ten Best Movies About Prom; Prom Disasters; Prom Dresses for Every Body Shape.
"Confidence is the most beautiful quality a young woman can possess and knowing that a dress I designed can help her attain that beauty is a wonderful feeling," said Shala Moradi, Designer of Faviana.
Faviana has distinguished themselves over the years as a leader in the industry for being able to create the perfect dress for any special occasion and the 'go to' brand for the best designer-inspired looks. Designed with the fashion smart girl in mind, Faviana speaks to a variety of discerning, fashion forward consumers.
Available for download at Faviana.com, Prom Night: How to Look and Be Your Best Volume II is a fun, informative guide for prom girl and parents. For a sneak peek at Prom Dresses 2013, go to http://www.Faviana.com.