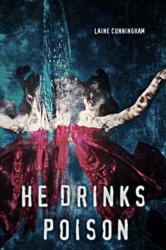 "This story is beautiful, smart, and intriguing…giving us a book we can't put down."
Raleigh/Durham NC (PRWEB) December 10, 2012
Bondage has appeared in books and movies ranging from the classic The Story of O to 9 ½ Weeks, so E.L. James' Fifty Shades of Grey was nothing new. Yet the book outpaced even the Harry Potter series as the fastest selling paperback of all times in part because the romantic relationship takes center stage. Now fans can find the best of 50 Shades in Sun Dogs Creation's new release, a novel written by award-winning author Laine Cunningham.
He Drinks Poison pits a female FBI agent against a prolific serial killer haunting Wheeling, West Virginia. As a strong, independent woman in her mid-thirties, Priya Conlin-Kumar has already established herself in her career. Still she longs for a partner who will understand her need to step back from life's pressures and demands, a lover who will guide her deep into her own passions in the bedroom.
Ohio County Sheriff Randal Pierson is that man. He challenges her to fully release her mind, body and heart into the sensual experiences she craves. Their nights together remind her of popular stories in Hinduism when the god Shiva took Shakti as his consort with lovemaking that shook the mountains.
The intimacy Priya shares with Randal extends far beyond the bedroom. Their relationship becomes an important support for her as she faces increasingly panicked citizens, relatives of victims who grow angrier the longer the murderer is free, and a killer who has targeted her as his most important victim. Randal's devotion is so complete he is like Hanuman, the Hindu monkey king who broke open his own chest to show his heart to the god he adored.
The book is sure to satisfy fans who found the 50 Shades series lacking in literary quality. "He Drinks Poison ranks among the great thrillers of all time," says Pamela King Cable, author of Televenge, a Southern thriller that was Library Journal's top pick for 2012. "The story sparks fury and tears. It is impossible to read this book unmoved."
Cunningham's latest fiction novel is also likely to satisfy those who criticized Anastasia's glaring lack of self-respect in the 50 Shades trilogy. In Hindu thought, the male energy is active and the female energy receptive. Priya allows this dynamic to play out in her private life, much to her satisfaction. Her intimate passion builds her female energy known as shakti.
Finally her anger, the righteous anger Hindu warriors must feel if they are to be victorious, explodes. The dark goddess Kali enters her. Although Kali's visage is horrific, she is the wrathful mother who defends her children from harm. Priya finds justice in a way that satisfies both the law of man and spiritual law.
"This story is beautiful, smart, and…intriguing," says C. Hope Clark, author of Lowcountry Bribe. "The tale is intelligently deep with lyrical storytelling and strong character development…giving us a story we can't put down."
The novel was shortlisted for the Pirate's Alley William Faulkner award before being picked up by a small publisher. The creation of the novel was supported by residencies and grants from the prestigious Vermont Studio Center and Wildacres, an arts and humanities center. The e-book is available from all major distributors like Amazon, iBookstore, Barnes & Noble, Sony and Kobo. Additional outlets include Baker & Taylor, Copia, Gardner and eBookPie.
Facebook fans who like the He Drinks Poison page listed under LaineCunninghamBooks will find up-to-date content on writing, publishing, Hinduism, inspirational sayings, spiritual journeys, tribal and ancient mythology, and similar items.
Cunningham's other novels include the award-winning Message Stick. Gabriel Branch, a biracial Aborigine, faces a powerful shaman in the Australian outback to discover the truth about his best friend's disappearance. The work won two national awards that ranked Cunningham alongside Pulitzer Prize winning authors like William Styron and Horton Foote.
More information on her first novel and the companion book of essays, Seven Sisters: Spiritual Messages from Aboriginal Australia, can be found at LaineCunningham.com. She can be reached at 919-928-2245.