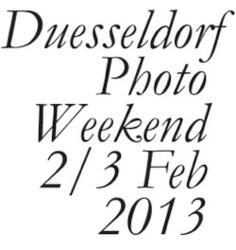 Galleries, museums, and cultural institutions all over Düsseldorf will open their doors for one weekend of photography-related exhibits and events.
Düsseldorf, Germany (PRWEB) December 12, 2012
Galleries, museums, and cultural institutions all over Düsseldorf will open their doors for one weekend (February 2-3, 2013) of photography-related exhibits and events, showcasing the full spectrum of photography as art, including fashion and celebrity photography.
The 2013 Düsseldorf Photo Weekend is the second, following the successful 2012 premier. The event was conceived by the NRW-Forum, one of Germany's premiere art institutions, with the support of such major sponsors as the Düsseldorf Trade Fair Authority (Messe Düsseldorf), Audi, K.West Magazine, and Düsseldorf Marketing & Tourismus.
Highlights of the weekend include: an exhibit at the city's "Malkasten" (paint-box) on Düsseldorf's Jacobistrasse, an association of local artists. The exhibit is called "Antifoto," a three-part project with works by several artists; the exhibit "Who's Afraid of Photography? / Exploring the Borders of a Medium," by Tobias Grewe at the Gallery Beck & Eggeling; and an exhibit of photography by Duane Michaels at Gallery Clara Maria Sels. Moreover, the Museum Kunstpalast, one of Düsseldorf's premiere art venues, will feature a special exhibit called "AFORK: 10 Years – 10 Photos" (February 2 - April 1, 2013) - select portraits, mostly new acquisitions, from its special collection of photography from the local Rhineland art scene.
The NRW-Forum is also the site of two related events: A photography exhibit by Canadian rock star Bryan Adams, called "Bryan Adams – Exposed" (February 2 – May 22, 2013); and the "Photo Book Salon" (February 1-3), an expo of photography books and magazines by publishers, dealers, and young and established authors, which includes a browsable exhibit of 20 copies of a limited edition book by photographer Stephen Shore from a collection of New York's Metropolitan Museum. The Photo Book Salon spotlights photography book and magazine publishing as a growing medium for artistic expression and for finding new audiences, especially for young photographers.
Another feature of the program is the "Portfolio Review" on February 2 before the weekend opens. Young photographers from around the world will have an opportunity to have their works reviewed by a high caliber jury of photography professionals from genres ranging from fashion to fine arts. The review takes place at Düsseldorf's "Salon des Amateurs." Photographers can submit their registration online at http://www.portfolio-review.de.
Through 2013, Düsseldorf's tourism office is offering hotel and city specials for this and other of the city's art events. Packages can be booked right from the tourism office's website at http://www.duesseldorf-tourismus.de/hotelpakete. Prices start at €59 per night per person based on double-occupancy for a 2-3 star hotel in the city center and at €69 per person for a 4-5 star hotel. All packages include breakfast, a Düsseldorf Welcome Card (free public transportation within city limits plus 30 free or reduced admissions to city attractions), and a city information package. Most art-related hotel packages also include admission to the exhibit. Please check the website for current information.
For more information on Düsseldorf Photo Weekend, visit http://www.duesseldorfphotoweekend.de.
###
Düsseldorf Marketing & Tourism GmbH is the visitors and convention bureau of the city of Düsseldorf. Its responsibilities include tourism and city marketing, as well as conference and meeting marketing, hotel reservation services, fairs and convention services, city event ticket sales and advance ticket reservations. For more information, visit http://www.visitduesseldorf.de.
Düsseldorf International Airport, Germany's Next Generation HubTM, offers several non-stop flights from US & Canadian cities (Atlanta, Chicago, Ft. Myers, Las Vegas, Los Angeles, Miami, New York, Newark, Toronto, San Francisco, Vancouver), as well as convenient connections to many European cities. For more information about the airport, visit http://www.fly2dus.com and http://dus-int.de/dus_en/.