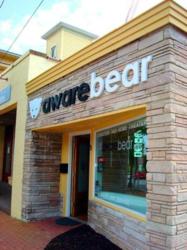 Computer malware and computer viruses are on the rise again going into the New Year. Experts have been closely monitoring malware and virus activity on the web and they have noticed that malware is no longer just in files and emails
Rochester, NY (PRWEB) December 08, 2012
There is good news coming for computer owners affected by malware programs and computer viruses in the Rochester, New York area; Aware Bear Computers is now offering virus & malware removal services for $69.00--in store only. Additionally, their expert technicians deliver reliable service with strong customer satisfaction. This price is very competitive; most major electronic retail stores charge $199.00 for these services.
Aware Bear Computers is a local business in the Village of Pittsford, New York. Aware Bear Computers provides computer and IT related services. A small business, Aware Bear Computers is staffed by certified technicians who perform top quality comprehensive computer repair services such as virus removal from desktop and laptop computers.
Computer malware and computer viruses are on the rise again. Experts have been closely monitoring malware and virus activity on the web and many have noticed that malware is no longer just in files and emails, but now it appears on numerous social media sites such as Facebook, Twitter, MySpace, and other less common social media sites.
In addition, the computer repair experts in Rochester have noticed that malwares and viruses infiltrate owners computers by sending emails or messages that seem to be legitimate virus removal programs or software. It is worthwhile mentioning that computer owners can attempt to install malware and virus removal software, but if the operating system has already been infected, it is most likely too late to successfully remove. Today, malwares and viruses are so advanced that personal data is lost, and files become corrupted to the extent that the computer does not function.
Aware Bear Computers use a precise and methodical technique for malware and virus removal. Aware Bear Computers proactively listens to customers and asks questions to pin point computer owners' problem.
In addition, Aware Bear Computers offers preventative maintenance for customers who want to get the best experience from desktop, laptop, operating system, and other softwares for computers.
A lot of times when a computer is not functioning properly it is because it has been affected by a malware or a computer virus and that can result in hardware damages such as corruption of files, documents, and hardware. It is great to have the peace of mind knowing that Aware Bear Computer is waiting 6 days a week to provide computer owners repair services for all your computer issues.