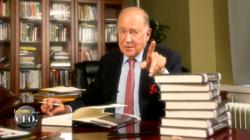 Ira generously shared of his time and his thoughts on a variety of subjects from which we can all learn.
New York, NY (PRWEB) December 19, 2012
Former CEO of Bergdorf Goodman, Ira Neimark, is featured in a series of videos on Sarder TV where he discusses everything from the lost art of customer service, to how he handled his failures, market strategies, and even how to get the customer service you need from a retailer. The thirteen videos which average just a few minutes but they are little gems of information and an insight into one of the icons of the retail fashion industry.
Ira Neimark's story is one of the classic American success stories where he started out an assistant to the doorman at Bonwit Tellers and rose to become the CEO of Bergdorf Goodman. In addition, Ira is on the Board of Hermes of Paris and is the Director Emeritus of Fashion Institute Foundation. He is also the author of "Crossing Fifth Avenue to Bergdorf Goodman: An Insider's Account on the Rise of Luxury Retailing," and the "Rise of Fashion and Lessons Learned at Bergdorf Goodman."
In these fascinating videos you get a real glimpse into who Ira Neimark is and what makes him tick. You can find out his views on the current marketing strategies of some of the big box stores and he explains his advice to, "Never Talk to an Angel, Talk to God" quote which customers can use to get satisfaction with a product.
"We are so proud to be able to present these video clips of such a prominent member of the retail and marketing establishment," said Russell Sarder, founder and CEO of Sarder TV.
"Ira generously shared of his time and his thoughts on a variety of subjects from which we can all learn." said Sarder.
Ira Neimark's videos are part of new undertaking called SarderTV, a learning channel which features interviews with CEOs, authors, educators and leaders in a variety of fields.
Don't miss Ira Neimark's interview: http://sardertv.com/tag/ira-neimark/.
SarderTV is also seeking leaders to interview and is targeting leaders from Fortune 500 companies, and exceptional public figures like Bill Clinton, Oprah Winfrey, Jim Collins, Bill Gates, Warren Buffet and many more. According to the National Venture Capital Association, more than 30 percent to $600 million this year has been invested in Web-based education. For investors seeking an opportunity to participate in a multi-million dollar idea SarderTV presents an excellent investment and is actively seeking investors. Several investors have already expressed an interest in this innovative idea. Investors interested in becoming a part of SarderTV are invited to get in touch as well russellsarder(at)netcomlearning(dot)com.
About Sarder TV
SarderTV is a learning channel that contains a series of exclusive educational interview videos from top leaders in their industries, as well as motivational videos encouraging our public to succeed in their personal and professional lives, and many more. Russell Sarder, CEO of Sarder TV, has interviewed a series of leaders, who have shared their experiences and how they were able to achieve their success. Some of the names that Sarder has interviewed are: Ira Neimark, former CEO of Bergdorf Goodman; Russ Edelman, co-author of Nice Guys Can Get the Corner Office; Susan Davis, CEO of BRAC USA, and many more.