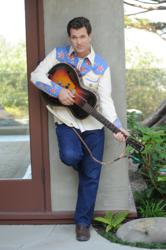 "I did this because I love this music—that's the entire reason," Isaak explains
Napa, Ca (PRWEB) December 07, 2012
Yes, after more than a quarter of a century into his career, Chris Isaak has finally created the album he's always wanted to make. Beyond the Sun, Isaak's first Vanguard Records release out Oct. 18 —is truly a labor of love. As a child spinning his parents 45s in their Stockton, California home, this deeply committed artist has been obsessed with the glory days of Memphis' Sun Studio and the visionary artists who got their starts there—including Elvis Presley, Johnny Cash, Roy Orbison, Carl Perkins and Jerry Lee Lewis—all of them discovered and nurtured by the late, great Sun Records founder Sam Phillips. Now, at long last, Isaak has acted on this lifelong obsession, magically recapturing the transformative hepcat brilliance of the classic sides cut by these greats at Sun with Phillips during the mid-'50s, while also getting down to the heart and soul of his own deeply rooted musical identity.
"I did this because I love this music—that's the entire reason," Isaak explains, advising, "you gotta listen to the original ones—they're classics – they're awesome but you can have fun with them. These guys discovered this music for us and we had to rediscover it. There's no way to do it exactly like they did it, so you've gotta give a little bit of your own take on it."
Considering how unmistakably Isaak's own music has been inspired by that of the Sun greats, particularly Presley and Orbison, the obvious question is, what took him so long? "When I started making music, I thought that if I do those songs, where do I go from there?" he says. "I wanted to make sure I found my own sound and established who I was. But I always loved that music and I wrote songs in that spirit. You can go through all my songs and you won't find one reference to goin' to the bop. They're about my life, not about nostalgia for the '50s. I came to a point where I felt like the time was right to do this record. I'd met all my heroes and worked with most of them, and I didn't hear anybody else doing it the way I wanted to do it."
Tickets for Chris Isaak plus Nick Isaak are $75/90. They are on sale now and can be purchased through the theatre website at http://www.uptowntheatrenapa.com, at Ticketmaster (http://www.ticketmaster.com) or at the theatre box office (please call 707.259.0123 ext. 6 for hours). To find out more, please visit http://www.uptowntheatrenapa.com.
The Uptown Theatre Napa is downtown's ultimate destination for live concerts. Nestled in the famed West End district, this stunningly restored art deco masterpiece showcases only the finest acts, featuring music, comedy and more. An historic landmark, the Uptown offers a phenomenal, intimate live show experience, with excellent site lines and world class sound and lighting. As concert venues go, this is the place to be. Every seat is a great seat so buy concert tickets now!