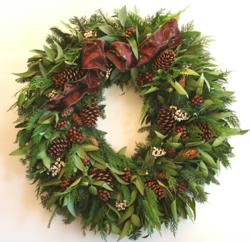 People love giving and receiving our handmade wreaths. The reaction has been very gratifying.
Monterey County, CA (PRWEB) December 10, 2012
One of the most gracious ways to deck out a home for the holidays is with a wreath--to dress the door, bring a festive flavor to the kitchen, or add flair to the entryway or gate. Holiday wreaths are also considered a welcomed gift for corporate clients, family, and anyone who is to be appreciated this time of year. While decorating with wreaths as a holiday tradition reaches back over the centuries, holiday wreaths created from nature's finest ingredients are reaching their pinnacle.
Carol Umbarger lives wreath-making 24/7/365. She and her husband Larry are founders of Artisan wreath maker, Creekside Farms. Carol has an eye for wreaths and brings together live, California-grown greens and herbs to produce fresh wreaths that warm the home. This December, Creekside Farms has been selected as the "Resident Artist" at the Sunset Center Gallery in Carmel, California, the Monterey Peninsula city where Clint Eastwood is perhaps the best-known resident.
Creekside Farms believes that the best holiday wreaths are made fresh from holiday greens, such as fir, pine and cedar, as well as eucalyptus leaves, hydrangeas, magnolia and California bay and olive. The family farm specializes in herbs and flowers, all grown naturally. "We use no pesticides or herbicides, hand-pick our herbs, leaves, and flowers, and dry them on racks until they are needed for the next wreath creation," said Carol.
Creekside Farms is a local farm with nationwide reach. For over 20 years, Creekside Farms has supplied wreaths for luxury home décor retailers, including William Sonoma, Pottery Barn, Frontgate, Harry & David, and Sur La Table. More recently, Creekside Farms has developed a unique offering of select wreaths that can be purchased on their online website. "Online sales started off slowly, but over the past two years, word has spread, and now major corporations are also choosing our wreaths as client gifts and employee gifts," explained Carol. It's always challenging for a company to find corporate holiday gifts that are remembered. "People love giving and receiving our wreaths," said Carol. "Companies tell us that their clients thank them for their wreath gift all year. Their reaction has been very gratifying."
Little did Carol know, when she first answered the request from Smith & Hawken to create 3,000 eucalyptus and pepper berry wreaths in late December over 20 years ago, that her small artisan farm would grow to encompass three generations of her family. Carol and her husband, Larry, are still active in the company but are planning their retirement and leaving their business in the capable hands of their family. Allen, their oldest son, as General Manager oversees all aspects of the business. His wife, Teri, is in charge of all sales and quality and has taken the design phase of their business to new heights. Aaron, their second son, is in charge of shipping, Scott, their youngest son, is in charge of the field and farming division of their operation. This is truly a family affair, with Teri's sister, Hilda Gonzales, also working with Creekside Farms. Their oldest grandson, Branson, who is now 18, is the latest family member to come to work over this past two summers. Larry and Carol plan to maintain a thriving business for the future generations of their family and the families of their valued employees.
About Creekside Farms
Creekside Farms is a family owned and operated farm located in California's Monterey County. They grow on 15 acres on their main site and 5 acres at their home site. The warm, dry climate of Monterey County is ideal for growing and drying the herbs and flowers used in their designs. An extensive range of wreaths are offered on their website, ranging from Holiday wreaths, Fall wreaths, herbal wreaths, all-occasion wreaths, and even specialty wreaths for events such as baby births, baby showers, and patriotic occasions. Creekside Farms express ships with all major carriers and is offering a special "Deck the Halls" sale through December 14th.
###