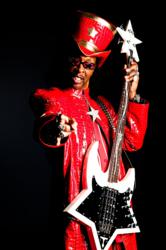 Napa, Ca (PRWEB) December 08, 2012
Bootsy Collins is the Man Who Put Bass In Yer Face – the original funk 'n' roll wild child, the Godzilla-toned high minister of the all-powerful "one", a sly dog who – with his trademark psychedelic stovepipe, knee-high platform boots and his star-studded bass guitars – makes the Cat in the Hat look tame.
Inspired by Jimi Hendrix and tutured by no less an authority on the big beat than James Brown, Bootsy has stomped his way through the last 40 years of music history and lived the high life. He was been inducted into the Rock'n'Roll Hall of Fame along with the other members of Parliament-Funkadelic. And yet, after spraying outer space bass all over classic recordings by the Godfather of Soul, P-Funk, and his own trail-blazing groups – including Bootsy's Rubber Band, the Sweat Band and Praxis – Bootsy has arrived at a kind of Zen-like balance that he credits for inspiring his new album Bootsy Collins "The Funk Capital of the World".
Tickets Bootsy Collins & The Funk Unity Band are $45/55. They are on sale now and can be purchased through the theatre website at http://www.uptowntheatrenapa.com, at Ticketmaster (http://www.ticketmaster.com) or at the theatre box office (please call 707.259.0123 ext. 6 for hours). To find out more, please visit http://www.uptowntheatrenapa.com.
The Uptown Theatre Napa is downtown's ultimate destination for live concerts. Nestled in the famed West End district, this stunningly restored art deco masterpiece showcases only the finest acts, featuring music, comedy and more. An historic landmark, the Uptown offers a phenomenal, intimate live show experience, with excellent site lines and world class sound and lighting. As concert venues go, this is the place to be. Every seat is a great seat so buy concert tickets now!