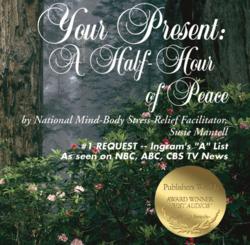 "Most of us are more strung out than the lights on our trees. It's time we stuff our stockings with "Your Present: A Half-Hour of Peace." Relax, release, renew the spirit." - Fort Worth Star Telegram
Chappaqua, NY (PRWEB) December 13, 2012
Finding thoughtful, meaningful Christmas gifts for parents isn't easy, but kids aren't the only ones with sugarplums dancing in their heads these days. What busy moms and dads are probably wishing for is some serious sleep!
This holiday season, award-winning stress management expert Susie Mantell offers a wide array of free online tips to relieve holiday stress, release worry, and enhance deep, restful sleep. Visitors to Relaxintuit.com find stress tips for parents of young children, as well as for adult children engaged in eldercare. The bone-wearying fatigue of Caregiver Stress is a phenomenon only fully understood by those who have lived it. Mantell has, and does.
Described as "the calm within the storm," Susie Mantell also customizes stress reduction for clients including Verizon, New York Hospital, Ford, AETNA, Cancer Survivors Day and renowned Canyon Ranch spas. She's the bestselling author of "Your Present: A Half-Hour of Peace" (CD). Her skillful, comforting narration provides an oasis from hectic days, or a prelude to deep, restorative sleep. So many parents find relief in Mantell's CD themselves that they keep additional copies on their children's nightstands to calm restlessness, and gently lull them to sleep. Everybody wins.
The Fort Worth Star Telegram suggests, "Most of us are more strung out than the lights on our trees. It's time we stuff our stockings with 'Your Present: A Half-Hour of Peace.' Relax, release, renew the spirit." Billboard agreed, "For anyone tense from the stress of modern life... soft, lovely music and a warm, soothing voice." Mantell helps seniors living with chronic pain or medical challenges to refocus in the present moment, rediscovering peace. Library Journal says, "Highly recommended. Hospital libraries may be particularly interested. Mantell has produced an excellent program, effectively using her voice, pacing, and music to help the audience achieve a state of relaxation."
Relaxintuit.com presents Susie Mantell's free online stress relief tips by topic. Visitors can also subscribe to her free stress tips e-newsletter, and order "Your Present: A Half-Hour of Peace." Dan Bradford of Relaxintuit.com notes, "Each copy displays the gold embossed "Publishers Weekly Best Audios Award" seal. Listeners often say their relaxation experience begins the moment they see the beautiful cover. Just add a ribbon and give parents of all ages the relaxation of a spa vacation—for just $14.95." Relaxintuit.com is offering a Christmas Present Special: Buy 5-- Get 1 More Absolutely Free. (Also in Bookstores: ISBN 978-09640724-1-0)
_____________________________________
About Relax Intuit™ LLC (http://www.relaxintuit.com)
Based in Westchester County, NY, Relax Intuit™LLC is a highly ethical provider of acclaimed stress relief expert Susie Mantell's seminars for corporations and medical professionals, and her award-winning guided imagery meditation for relaxation, "Your Present: A Half-Hour of Peace."(CD) Mantell also provides individual stress management phone consultations by appointment. Relaxintuit.com and Susie Mantell's work are intended as an adjunct to, never a substitute for, professional health care. Visitors and clients should always consult their own licensed medical and mental health professionals regarding any practice or suggestion that might in any way affect an individual's health or safety. Twitter @relaxintuit