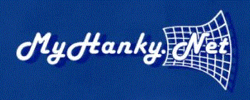 It's Like No Other Hanky In The World.
Brooklyn, NY (PRWEB) December 10, 2012
Handkerchief maker My Hanky Inc. is marketing a soft new product line in time for the winter holidays. It is only available online or at the My Hanky store, 345 Lafayette St., New York City.
What makes the new handkerchief so very special?
"This hanky's like no other in the world; it's the softest, fluffiest and most absorbent," says Frank Marino, the firm's president. "Made from 100% American grown pima cotton—known as the cashmere of cottons—it's noticeably softer, yet durable and resilient."
The individual fibers of pima cotton, which are 95% longer, result in finished textile characteristics that make pima cotton a big favorite with fashion designers.
"Our double knit interlock weaving and proprietary Soft Cloud™ textile process help take softness to a whole new level," Marino notes. "No more chaffed noses during cold and flu season. No more torment from handkerchiefs that feel like sandpaper."
Growing up in a family with allergies, Marino was intrigued by the idea of creating truly softer hankies. None of the handkerchiefs available in stores proved gentle enough for regular use. And virtually all were mediocre Chinese imports.
"So I asked American fabric experts why traditional cotton handkerchiefs don't share the exquisitely gentle feel and absorbency of a cotton ball. It turns out that all those others use bulk cotton and a weaving process which places comfort second to manufacturing convenience."
This led to his discovery that pima cotton, plus a double knit fabric weave used in the fashion industry, produces a more comfortable-to-use hanky. A patented fabric softening process then adds its own improvements. The result has to be felt to be believed, Marino says.
"It's probably the only holiday gift you can give someone—and be confident they'll have it on their person if you run across them even months later."
For more information visit MyHanky.Net online or call 855-MyHanky (855-694-2659).