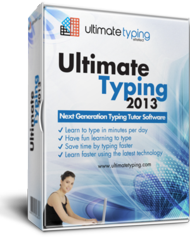 EasyLearn™ brings together for the first time two aspects of how to learn to type faster...
New York City, NY (PRWEB) December 11, 2012
Today eReflect, award-winning software company, announced the release of an advanced typing software equipped with the latest typing technology called EasyLearn™. Ultimate Typing is the product of painstaking research and integration of the latest technological innovations related to efficient typing learning.
Ultimate Typing consists of no less than 7 distinct strategies for helping users achieve their typing goals quickly, and with accurate results. While all 7 strategies are innovative and efficient, what makes Ultimate Typing stand out is its next generation technology called EasyLearn™.
EasyLearn™ brings together for the first time two aspects of how to learn to type faster: understandable video instructions, and training exercises that unleash the user's typing potential as quickly as possible. The video instructor explains the user the drill that follows in language that's easy to understand and leaves nothing unanswered. After the detailed explanation of the drill is given, the user is presented with the drill so that they can put it into practice themselves. The combination of the detailed instructions and real-time presentation of the drill at hand ensures that the user will get it right fast and learn to type accurately.
After the user practices the drill and once the task ends, the video instructor returns to track the user's performance. Only then does the system move on to the next typing exercise. The main advantage of this EasyLearn™ technology is that the user can learn to type three times more quickly, in contrast to more conventional typing tutor software.
A lot of thinking has been put into this innovative technology and the very first reviews about it acknowledge how well designed it is, especially in allowing typing beginners to quickly advance their typing speed and accuracy. The EasyLearn™ technology makes users confident about the task they need to perform, and this confidence allows them to get it right the first time. The video instructions are available for most activities and drills, providing a sense of guidance and security to learners from start to finish.
For more information about the EasyLearn™ technology and how it can accelerate your typing learning pace, visit http://www.ultimatetyping.com.
About Ultimate Typing
Ultimate Typing™ is an advanced typing tutor software that offers incomparably sophisticated typing strategies.
Ultimate Typing™ is informed by the latest research and scientific developments about efficient typing. With as little as 7 minutes a day, aspiring fast typists can substantially improve their typing accuracy and speed.
With its user-friendly and expert-designed activities all users can improve their typing. Accurate typing is possible thanks to Ultimate Typing. Plus, eReflect provides a money-back guarantee that cannot be matched.