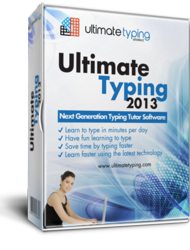 ...a person can save from 4 to 47 hours just by improving their typing speed.
New York City, NY (PRWEB) December 17, 2012
Industry leader eReflect Software is releasing its newest product, Ultimate Typing, in answer to a need expressed by many people: that they could have more time to do all of the things they have to fit into every day, at home and at work. The software designers looked at statistics and found that above-average typing skills will allow people to save valuable time at their daily tasks, something that gives people confidence and makes them appear more professional, irrespective of their profession or status.
Ultimate Typing is a tutor typing software aimed at increasing the user's typing speed and accuracy. With state-of-the-art technologies the software promises to do more than increase a person's words-per-minute typing pace. According to Ultimate Typing software, when people are typing faster they instantly give others the impression that they are hard-working and have a highly-developed work ethic. When a person is certain of their typing skills, they are able to transfer that confidence on to other tasks as well. With Ultimate Typing, the developers promise that the user will see an improvement in their typing abilities, thereby taking the first step to better productivity and increased self-confidence. The easy-to-follow video instructions ensure that even keyboard novices will quickly learn the basics of touch typing, and start improving their speed and accuracy right away.
According to statistical information gathered by the software developers at eReflect, a person can save from 4 to 47 hours just by improving their typing speed. This is a respectable amount of time which can be uses for a million other tasks, rather than spending it in front of a keyboard. Efficient typing, as the software developers stated, saves time otherwise spent on menial tasks. People who learn to type quickly can use their spare time and invest it in improving other skills, being more productive, or just in taking time for themselves. The creators of Ultimate Typing developed their product in order to give people the opportunity to enjoy this extra time saved. That time saving is evident in the streamlined and focused exercises in the software, each of which can be completed in 15 minutes or less, allowing users to fit their typing improvement lessons into any convenient break in their schedule.
As the developers note, good typing skills significantly boost a person's career prospects. An efficient employee is far more easily noticed and promoted than one struggling with a keyboard. As computer use and literacy are today a requirement for over 75% of professions, it's easy to understand how imperative good typing skills are. Ultimate Typing helps people focus on improving their typing skills with more than 600 exercises for all skill levels, games to encourage active participation, and personalized lesson plans. Ultimate Typing's top-ranked software is designed to help people reach the top rank themselves, in as little as 15 minutes a day.
For more information on how great typing skills can boost your career potential visit http://www.ultimatetyping.com.
About Ultimate Typing
Ultimate Typing™ is an advanced typing tutor software that offers incomparably sophisticated typing strategies.
Ultimate Typing™ is informed by the latest research and scientific developments about efficient typing. With as little as 7 minutes a day, aspiring fast typists can substantially improve their typing accuracy and speed.