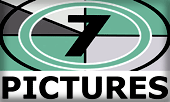 (PRWEB) December 11, 2012
Los Angeles based Seven Pictures, an established professional video production company, is proud to announce the hire of their newest sound engineer, Peter Olsted. Peter will be responsible for the sound operation and reputable audio production within Seven Pictures' powerful, communicative message delivery the brand is known for. Peter joins the professional craftsmen responsible for delivering video productions of the highest possible quality that exceeds expectations.
"We value quality, and therefore we seek out the highly reputable and experienced professionals," says Asbjorn Christiansen, Creative Director at Seven Pictures. "Mr. Olsted is an extremely valuable asset to our productions, and audio quality is a great factor in the production value of video."
With 15 years of sound mixing experience, Peter Olsted is a highly qualified, well respected sound mixer from Denmark having worked for all the major production facilities in the area. Two years after beginning his sound mixing career, Peter's natural audio talents led him to be promoted to the Head of Sound for one of Denmark's major broadcasters TV3 for the production of The Soccer World Championships in 1998. Shortly thereafter, Peter was hired by The Danish National Broadcasting to mix and design the audio expression on some of their biggest ventures throughout the years. Many of his work have been nominated for the Danish Television Awards, and Peter himself has often been highlighted as a major force on film crews.
Seven Pictures has earned its position as a well respected film and video production company. They are devoted to producing impressive and entertaining videos. With over 25 years of specializing in highly effective corporate, marketing, training and orientation videos, Seven Pictures produces superior productions that present a clearer, elevated message in the best way possible.
For more information about Seven Pictures' Video Production projects, visit http://www.SevenPictures.com
About Seven Pictures
Seven Pictures takes a meticulous and disciplined approach toward video production. With over 20 years experience in the industry they specialize in creating cinematic quality product videos, corporate videos, training videos, and TV commercials with unparalleled craftsmanship. Seven Pictures is a pioneer who understands that a high quality video production is more than just point and shoot—it's about delivering visionary ideas and executing something spectacular.