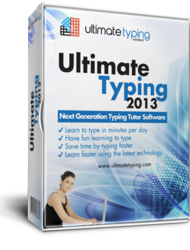 ...the new technologies the software includes are what makes this possible.
New York City, NY (PRWEB) December 14, 2012
Upon releasing Ultimate Typing, its first tutor typing software, eReflect software company encouraged all typing beginners to strive to become pro typists and make it into the top 1% of touch typists. According to the software developers this is an easy task to accomplish, thanks to the resources provided by the Ultimate Typing system.
Ultimate Typing is a newly released typing software which includes a series of innovative technologies and strategies for making touch typing very easy to learn. The software is equipped with the latest technologies called EasyLearn™ and Adaptive Learning™ which promote effortless and accurate typing in the least possible time. A typing master is not necessarily made through spending long hours practicing, but in using the right practicing tool, and that's what the software developers set out to prove.
The software developers revealed that when people practice with Ultimate Typing, they can easily enhance their typing skills and be part of the top 1% typist pool in very little time. As they explain, the new technologies the software includes are what makes this possible. EasyLearn™ includes step by step, clear video tutorials that guide the user all along the learning progress. The video instructor explains the tasks in understandable language and with great detail to ensure that the user perfectly understands all tasks before practicing them. On top of that, upon completion of a task the user can decide, based on the statistics of their performance, whether they wish to re-practice a drill or move on to more advanced training.
Adaptive Learning™ technology is another innovative aspect of Ultimate Typing. Unlike other typing software systems, this one provides aspiring pro typists with personalized activities and drills which are completely compatible with their typing level and needs. With this technology, Ultimate Typing allows all users to learn to type quickly and accurately, without wasting their time with unchallenging or too advanced practicing that has no effect whatsoever.
Ultimate Typing has made sure that the proper technology is available, so all typing beginners need to do is take up the challenge and see if they can make it to the top 1% of pro typists.
For more information on how you can sharpen your typing skills and become a pro typist yourself, visit http://www.ultimatetyping.com.
About Ultimate Typing
Ultimate Typing™ is an advanced typing tutor software that offers incomparably sophisticated typing strategies.
Ultimate Typing™ is informed by the latest research and scientific developments about efficient typing. With as little as 7 minutes a day, aspiring fast typists can substantially improve their typing accuracy and speed.
With its user-friendly and expert-designed activities all users can improve their typing. Accurate typing is possible thanks to Ultimate Typing. Plus, eReflect provides a money-back guarantee that cannot be matched.