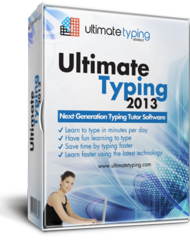 This method ensures that no gaps remain and that the learner by the end of their practicing will be sure about their typing skills.
New York, NY (PRWEB) December 16, 2012
A new approach to typing training has been introduced by the newly released Ultimate Typing software. Ultimate Typing implements the latest technology and confirms that previous approaches are no longer efficient, compared to the new sophisticated strategies it uses. The typing software provides no less than seven strategies for practicing and improving typing skills. The most significant strategies are the EasyLearn™ and the Adaptive Learning™ Technologies, both unique to Ultimate Typing.
Keyboarding training is made easy and attainable thanks to newly applied technology. EasyLearn™ consists of detailed video tutorials that users watch before practicing any of the typing exercises. The video tutorials are easy to follow and are available for all major tasks and drills, making users feel confident and giving them the resources for practicing in the most efficient way. The EasyLearn™ technology examines the user's typing performance in terms of accuracy and speed and then provides the next appropriate typing exercise. This method ensures that no gaps remain and that the learner by the end of their practicing will be sure about their typing skills.
The other technology the software implements is the Adaptive Learning™ strategy. This new, intuitive technology uses top-level artificial intelligence, according to the Ultimate Typing developers. Instead of all users having to do the exact same set of drills and exercises, the software, after some screening exercises, provides a set of relevant, customized practice sessions that are compatible with the individual user's needs, knowledge, and typing level. Practice session adaptability means that the software adjusts to each user's learning progress as more practicing takes place, and only provides the user with training fitting to their level.
Other groundbreaking methods available in Ultimate Typing are the expert-designed activities, the multiple user accounts feature— so that more people can benefit from improving their typing skills— and an innovative, pick-your-exercising-text feature that allows users to practice keyboarding typing with online texts of their choice. For more advanced users, there's an additional option for creating personalized typing lessons and drills using the tools the software offers. This tool offers increased flexibility as to the type, level, and difficulty of the exercises developed.
For more information on how Ultimate Typing can help you be more productive at work and a better, more confident typist, please visit http://www.ultimatetyping.com.
About Ultimate Typing
Ultimate Typing™ is an advanced typing tutor software that offers incomparably sophisticated typing strategies.
Ultimate Typing™ is informed by the latest research and scientific developments about efficient typing. With as little as 7 minutes a day, aspiring fast typists can substantially improve their typing accuracy and speed.
With its user-friendly and expert-designed activities all users can improve their typing. Accurate typing is possible thanks to Ultimate Typing. Plus, eReflect provides a money-back guarantee that cannot be matched.