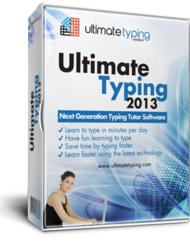 Unlike conventional typing software that focuses on drills for improving typing speed and accuracy, this software chooses to emphasize learning through play.
New York City, NY (PRWEB) December 17, 2012
Ultimate Typing is a next generation typing software which is informed by the latest technologies and scientific expertise. Typing speed and accuracy doesn't have to mean long hours of repetitive, mind-numbing drills! Ultimate Typing ensures that typing skills are improved through interesting facts and addictive games.
Keyboard practice is a skill that doesn't need to be dreaded any more because it's boring. Ultimate Typing completely transformed how typing is learned and offers easily-bored learners a chance to excel at typing by using its appealing features and fun games. Unlike conventional typing software that focuses on drills for improving typing speed and accuracy, this software chooses to emphasize learning through play.
16 expert-designed games make learning to type fun and interesting. Stripped of any boring, repetitive exercising that discourages users from practicing, Ultimate Typing's practice modules are equipped with research-grounded games which can sharpen up typing skills with the least amount of effort from the user.
When learning is done through play, most of the learning is done at a subconscious level; the learner doesn't feel that they're actually learning, they're just having fun with words. This promotes efficient learning with minimum effort and with maximum fun, and it is an asset not many typing software systems can brag about to date. Ultimate Typing developers knew very well how keyboard practice is equally valid when it is in the form of games. The software's designers have made sure that all games provided are scientifically developed so as to promote learning in the most efficient way possible.
Typing skills, including speed and accuracy, are both taken care of with games specializing in each skill separately. This enhanced adjustability means that if a learner has weaknesses in keyboard training related to speed rather than accuracy, they can choose games that focus mainly on speed. This not only keeps learners engaged as they are practicing, but it also makes sure that no time is wasted with irrelevant drills.
Ultimate Typing, known for its increased adjustability, ensures that the typing games are also customizable to a certain extent. Games such as Text Invaders, Fishing Adventure, and Falling Words are examples of typing games that can be played using texts selected by the learner's.
For more information on how Ultimate Typing can boost your typing skills through play and fun games, please visit http://www.ultimatetyping.com
About Ultimate Typing
Ultimate Typing™ is an advanced typing tutor software that offers incomparably sophisticated typing strategies.
Ultimate Typing™ is informed by the latest research and scientific developments about efficient typing. With as little as 7 minutes a day, aspiring fast typists can substantially improve their typing accuracy and speed.
With its user-friendly and expert-designed activities all users can improve their typing. Accurate typing is possible thanks to Ultimate Typing. Plus, eReflect provides a money-back guarantee that cannot be matched.