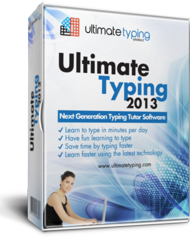 ...for those who don't know how to type at all, Ultimate Typing presents a scientifically-designed program to teach those very basics.
New York City, NY (PRWEB) December 19, 2012
Speed typing is a valuable skill, but touch typing takes that skill to a whole new level – and one that includes much greater speed. Those who have to rely on looking for letters and numbers on a keyboard are fully aware of just how much it slows down the work progress, and many of them wish they could learn to type faster. As for those who do know how to touch type, they certainly enjoy the advantages of not having to constantly keep their eyes on the keyboard, thereby allowing them to process written text much more quickly and accurately.
Ultimate Typing, the newest software from eReflect, enables anyone and everyone to learn how to develop the skill of touch typing and use it to their benefit. With an easy-to-use interface, and comprehensive training exercises, users are guaranteed a difference in their typing skills in as little as a few days.
The challenge posed by Ultimate Typing is twofold: first, for users who know the basics of touch typing, they encourage the users to "take off their training wheels" when it comes to typing. Someone who is familiar with the keyboard needs to use that familiarity to gain speed and accuracy; the trick is how to improve the level of their existing typing skill. Second, for those who don't know how to type at all, Ultimate Typing presents a scientifically-designed program to teach those very basics.
Of course, achieving success will always boil down to having the right kind of practice. That's why Ultimate Typing designed a series of programs that wean the user away from slow typing habits. Familiarization of keys is given prime consideration, followed by speed and accuracy. With just seven minutes a day, the user is guaranteed to see a significant improvement in their typing skills in as little as two weeks.
Lessons are conducted by a video instructor, who guides the user through the proper ways of typing. An activity is presented after each video lesson, to give the user an opportunity to apply what was taught in the video. What's special about the activities in this software is that they are all scientifically designed to train the fingers for faster typing.
It certainly can be a challenge to improve in any skill, especially typing, but that's a challenge that shouldn't be passed up.
For more information about the Ultimate Typing software, visit http://www.ultimatetyping.com/.
About Ultimate Typing
Ultimate Typing Software is a tutorial program designed specifically for the improvement of typing skills. It was created by eReflect, a world leader in e-learning and self development software.
Since its creation in 2006 by its director, Marc Slater, the company has already catered to over 112 countries all over the world, offering products with the latest cutting-edge technology, some of which are among the world's most recognized and awarded in the industry.