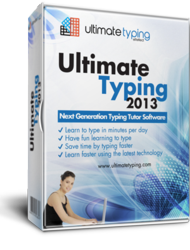 Getting up to speed quickly is important for people who want to improve typing skills, but who don't have much time to spare during the day.
New York City, NY (PRWEB) December 21, 2012
There's a newly released software for typing, and it guarantees immediate results in as little as a few days. Ultimate Typing is easily among the most efficient and results-oriented typing tutorial available on the market today.
There are a lot of reasons to celebrate the launch of this product – in fact, there are over 220 of them in all. That's the number of typing lessons incorporated into the training provided in Ultimate Typing, along with the other 600 practice exercises available.
Apart from the comprehensive lesson list, the other great thing about Ultimate Typing is that it really does take to heart the user's need for constant typing practice, necessary for anyone who wants to improve their typing skills. Some typing tutorials only focus on speed, giving prime consideration to the results on the "words per minute" counter. However, Ultimate Typing knows that speed is not the only thing that should matter to a good touch typist.
Speed goes hand in hand with accuracy, and this is also something Ultimate Typing caters to with the use of EasyLearn™ technology. EasyLearn™ incorporates the use of a video instructor, who then shows the user the proper ways of typing. This video instructor also guides the user through the exercises throughout the program.
With EasyLearn™, Ultimate Typing is able to provide the user with all the tools necessary to improve their typing skills. The software promises that users will be able to increase their typing speed up to two or three times more quickly than with any other software. Getting up to speed quickly is important for people who want to improve typing skills, but who don't have much time to spare during the day.
As if that's not enough, Ultimate Typing also has a lot of other nifty features, such as the Wiki Integration Feature, which allows the users to not only learn how to type faster, but also to learn more interesting facts straight off the pages of Wikipedia, Wiki Books, and more. It also has an impressive collection of ebooks, which include selections from novels, children's books, self-help books, and more, giving the user the opportunity to choose the texts they want to practice with.
For more information about the Ultimate Typing software, visit http://www.ultimatetyping.com/.
About Ultimate Typing
Ultimate Typing Software is a tutorial program designed specifically for the improvement of typing skills. It was created by eReflect, a world leader in e-learning and self development software.
Since its creation in 2006 by its director, Marc Slater, the company has already catered to over 112 countries all over the world, offering products with the latest cutting-edge technology, some of which are among the world's most recognized and awarded in the industry.