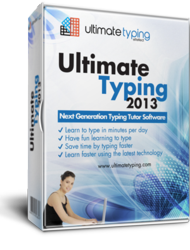 This falls nicely in line with their aim of providing a more robust selection of texts to be used for the typing exercises.
New York, NY (PRWEB) December 22, 2012
Typing tutorials need not only be about knowing how to become a faster typist. With a program like Ultimate Typing, learning typing also means learning all sorts of other information while you type.
One of the biggest offerings of this software is its large collection of ebooks, ranging from self-help books to novels, children's books, business management books, and more. Not only are these used to help the user work at his typing skills as they are incorporated into the lessons and games, but a variety of materials also makes for a more entertaining and proactive approach.
Ultimate Typing is particularly proud of this feature, and for very good reason. The selection of ebooks they have pre-installed in their software have a market value of over $3,000! Anyone who knows what ebooks sell for these days knows that this means the Ultimate Typing library definitely contains a lot of ebooks for them to go through and enjoy.
To access the ebooks for the tutorial, the user only needs to access the advanced text manager, choose which ebook should be launched, and start learning how to type faster using that ebook text.
Complementing the ebooks are the Wiki entries. Ultimate Typing adds even more value to their software program by adding in a Wiki Integration feature. This falls nicely in line with their aim of providing a more robust selection of texts to be used for the typing exercises. With this in place, the users can type articles straight off Wikipedia, Wiki Books, and more.
What this text flexibility guarantees for the user is both a comprehensive typing lesson and also a very interesting learning experience. Not only is the user able to improve their typing skills, but they can also pick up some valuable information, or enjoy a work of classic literature, or practice with text that is related to their specific field of work.
With all these text features combined, Ultimate Typing proves that it truly is the ultimate typing tutorial software out there today.
For more information about the Ultimate Typing software, visit http://www.ultimatetyping.com/.
About Ultimate Typing
Ultimate Typing Software is a tutorial program designed specifically for the improvement of typing skills. It was created by eReflect, a world leader in e-learning and self development software.
Since its creation in 2006 by its director, Marc Slater, the company has already catered to over 112 countries all over the world, offering products with the latest cutting-edge technology, some of which are among the world's most recognized and awarded in the industry.