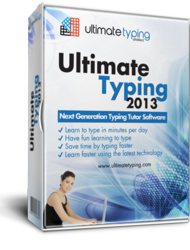 ...flexibility is just one of the many reasons why Ultimate Typing can definitely be enjoyed by everyone in the family, even the kids.
New York City, NY (PRWEB) December 25, 2012
It's never too late or too early for anyone to learn how to touch type. If the entire family can be in on the same activity, then the experience will be all the better. This is why Ultimate Typing has come out with typing tutor software that is versatile enough to accommodate more than just one user.
Being a multi-user program, Ultimate Typing ensures that the records and progress of each and every user are properly tracked and saved individually. Adding a new user to the system is as simple as creating a new account. Keeping each user's history and progress completely separate from the rest of the group allows the program to customize the training activities according to the each user's own learning curve.
Using this guided and personalized lesson plan, a new user can start going through the courses, from the beginner to the more advanced levels. A video instructor is there to guide the user through the proper ways of typing, and then through an activity that allows the user to apply what was just taught. The results are shown immediately after the activity, so that the user is always aware of their speed, accuracy, and rate of progress.
After each series of lessons, the user can refer to their own personalized progress tracking chart, several of which have been incorporated in the program. Tips for improvement are also provided to increase the user's ability to quickly become a better typist.
It's not all lessons, however. Ultimate Typing also offers several fun games and activities that make the learning experience more enjoyable. Like the lessons and exercises, these games are also flexible and adaptive to the user's abilities and interests. This flexibility is just one of the many reasons why Ultimate Typing can definitely be enjoyed by everyone in the family, even the kids.
Ultimate Typing provides fun and entertainment, but more importantly the program provides results, effectively teaching the user how to type faster.
For more information about the Ultimate Typing software, visit http://www.ultimatetyping.com/.
About Ultimate Typing
Ultimate Typing Software is a tutorial program designed specifically for the improvement of typing skills. It was created by eReflect, a world leader in e-learning and self development software.
Since its creation in 2006 by its director, Marc Slater, the company has already catered to over 112 countries all over the world, offering products with the latest cutting-edge technology, some of which are among the world's most recognized and awarded in the industry.