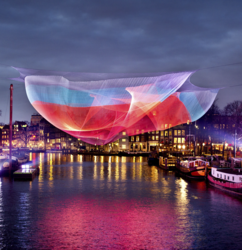 Brookline, MA (PRWEB) December 13, 2012
Studio Echelman today announced the European premiere of Janet Echelman's 1.26 sculpture, commissioned for the Amsterdam Light Festival. The 230-foot aerial sculpture is suspended from the Amsterdam Opera House over the famous Amstel River.
Echelman's work is the signature project of the 2012-2013 Amsterdam Light Festival, the winter celebration of light and water which runs through January 20th 2013. Curated by Rogier van der Heide, light sculptures by contemporary artists illuminate Amsterdam's city center along the historic river and canals.
View a time-lapse video of the installation: http://www.youtube.com/watch?v=PMxZoc-NxX4
The form and content of Echelman's 1.26 sculpture draws inspiration from the interconnectedness of Earth's systems. The artist used laboratory data from NASA and NOAA on the effects of the 2010 Chile earthquake, and the resulting 1.26-microsecond shortening of the Earth's day. The sculpture's three-dimensional form is inspired by the artist's mapping of tsunami wave heights across an entire ocean. The artwork underscores global interdependence.
"In Amsterdam, the river and canals have been central to city life for the last four centuries," said Echelman. "The light reflections on the water's surface become a focus of the sculpture here, creating an opportunity for contemplation. The sculpture invites you to pause and consider how we're knitted into a larger fabric."
This installation in the Netherlands is the European premiere of the 1.26 project, now exhibited on its third continent. Originally suspended from the Denver Art Museum to commemorate the inaugural Biennial of the Americas in 2010. In 2011, it travelled to Australia, where it was suspended in front of Sydney's historic Town Hall.
Janet Echelman leads Studio Echelman, which is known for reshaping urban airspace with monumental, fluidly moving sculpture that responds to environmental forces including wind, water, and sunlight. She collaborates with a range of professionals including mechanical engineers, architects, lighting designers, and fabricators. Echelman is a 2012 Architectural Digest Innovator, selected as one of eight global design leaders "challenging received wisdom and conjuring a bold new world." Echelman's TED Talk "Taking Imagination Seriously" has been translated into 33 languages and is estimated to have been viewed by more than a million people. Recently, she was awarded the Guggenheim Fellowship.
Follow Studio Echelman on Facebook: https://www.facebook.com/studioechelman
For additional information regarding Studio Echelman's sculpture, contact Melissa Henry, melissa(at)echelman(dot)com.
Studio Echelman
Studio Echelman explores the cutting edge of sculpture, public art, and urban transformation.
###