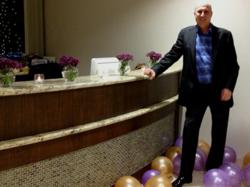 It was one of the most gratifying experiences of my life!
Beverly Hills, CA (PRWEB) December 10, 2012
Beverly Hills Dentist, Dr. David Frey held a benefit this week to raise money for the Jerusalem Dental Center for Children. Close to 100 people attended the successful event that helped raise thousands of dollars for children in need. The Jerusalem Dental Center for Children is a nonprofit clinic that provides high-quality dental and preventive care at subsidized rates to families in Jerusalem and throughout Israel. In 1989, Dr. David Frey traveled to the clinic and treated these under-privileged children for one year. "It was one of the most gratifying experiences of my life, and I am happy to continue to help in any way possible" stated Dr. David Frey. The crowd was privileged to also have the founder of the clinic, Dr. Isaac Perle attend the event. He spoke to the crowd for approximately fifteen to twenty minutes on the origins of the clinic and how he has sustained it for over 25 years. " Even as a kid, I always loved helping others and being charitable" stated, Dr. Perle. "My goal was to provide low cost, high quality dental care in a low income neighborhood of Jerusalem. The center has now helped over 350.000 people but continues to need support to sustain itself" says, Dr. Perle.
The event was coupled with a Grand Opening that showcased the city of Beverly Hills' most beautiful dental suite. This new boutique and completely digital dental office equipped with 3D X-rays, Zeiss microscopes, lasers designed in such a way that is also very relaxing and beautiful. Ipads in each room streaming DIRECTV to wireless headphones for patients comfort makes it truly state of the art.
World renown dentist , Dr. David Frey known for his stunning smiles, lectures on the topic of smile design and also mentors other dentists on the subject. He has written two books, Revitalize Your Smile and Revitalize your Mouth. He has also written for several top journals and appeared on many television shows and magazines.
If you are interested in donating to help the Jerusalem Dental Center for Children, please go to http://www.jerusalemdental.org/Donate.htm. You can also learn more about Dr. David Frey by going to his website at http://www.perfectwhitesmile.com