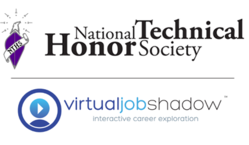 Job Shadowing is critically important to students who are exploring the vast number of exciting high tech, and high growth professions of the future.
Asheville, NC (PRWEB) December 10, 2012
The National Technical Honor Society (NTHS) and VirtualJobShadow.com (VJS) have announced an important initiative that will open up the VJS library of career and technology videos to the members and advisors of NTHS. Together, NTHS and VJS are dedicated and passionate about engaging young adults in preparing them to be leaders in the workforce of tomorrow. The National Technical Honor Society is the authoritative honor society for students pursuing career paths into career and technical occupations.
Current membership includes 80,000 students and faculty advisors from over 3500 schools and colleges from all 50 states. Founded in 1984, NTHS is a leader in providing scholarships for career/technical students and works closely with student organizations serving career, health, technical, and industry education. VirtualJobShadow.com is a unique career education resource that delivers the workforce into the classroom using videos that profile real people, in real skills-based professions.
Students, teachers and parents can job shadow from school or at home, and gain valuable insight into the working world with ease. VJS works with leading corporations and industry partners to identify in-demand occupations and showcases those opportunities to thousands of middle and high school students.
"Our mission at VirtualJobShadow.com is to inspire every student to discover an exciting career path that they will pursue. Young people need to connect the relevancy of academics directly to their future. Helping NTHS students identify their career goals and the required education and certification paths to reach those goals is fully compatible with our mission." said Kim Celentano, CEO of VirtualJobShadow.com. "
Job Shadowing is critically important to students who are exploring the vast number of exciting high tech, and high growth professions of the future. Traditional job shadowing is not always possible for many of our students. Virtual Job Shadow's video profiles are highly engaging and effective in helping students determine how the workforce is evolving and what areas are most appealing to them," said Allen Powell, Executive Director of NTHS. For more information please contact: Kim Celentano at kcelentano(at)strivven(dot)com or Allen Powell at apowell(at)nths(dot)org