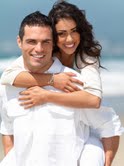 ....we have noticed a considerable increase in customer satisfaction
Columbus, OH (PRWEB) December 10, 2012
In a press release dated September 6, 2012, Abella Ultra-White announced that they made a decision to switch to an organic based whitening gel. "In just three months we have noticed a considerable increase in customer satisfaction," said Bruce Deitrick, owner of Abella Ultra-White, Advanced Teeth Whitening. "With the use of Organic, Mineral and Plant based ingredients and better whitening results for our customers, we are very optimistic about the future of our business."
In-office or sometimes called chair-side teeth whitening is becoming more and more popular with the general public. Regular pricing for teeth whitening at dentist offices is $600 to $1200 or more. Visiting Abella Ultra-White's website we found a coupon for only $149 for three back to back whitening sessions. So, not only does Abella Ultra-White offer their services at a fraction of what you would pay at the dentist's office they also use Organic based products.
About Abella Ultra-White, Advanced Teeth Whitening.
Abella Ultra-White is a Columbus, Ohio teeth whitening company who provides an alternative to going to a dentist for safe and effective teeth whitening products and services. You can learn more about Abella Ultra-White on their website at http://www.AbellaUltraWhite.com.