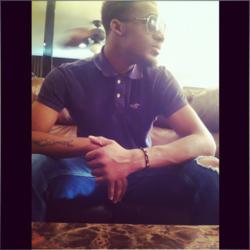 I just plain DISAGREE. The kid deserved it.
Philadelphia, PA (PRWEB) December 12, 2012
Remember Vyrotek, the one that released the "I'm Just Different" record, the record that was compared to the likes of the classic Linkin Park, Jack White, and the legendary Rage Against the Machine? Well it seems Vyrotek is back in the studio and is reportedly working on "better" material. "My first album was recorded in my bedroom so the quality was not that good, but despite that it did impress me with sales. I even got sales overseas. But the album just did not receive the promotion it needed, and I'm not going to let that happen again."
MME was able to sit down with Vyrotek to talk about his new project. "It's more competitive," says Vyrotek. "The quality is much better, I'm still going to have that RapRock sound, but with my own twist, it's going to be like something you've never heard before. I really think I have something special here." When MME asked how Vyrotek felt about the Grammy snub, Vyrotek responded with, "Oh I kind of expected it, I mean, the album just didn't get that Grammy Prominence. But when I heard Justin [Bieber] didn't even get nominated, I was like...wow that's just, crazy. It was something that I thought he really deserved, but hey, we'll get'em next year." So it seems like Vyrotek has put the Grammy snub behind and is already working on new material.
MME also asked Vyrotek about the content that will appear on his first studio album and Vyrotek replied with, "Well as I said earlier, it's still RapRock, but catchier, and more energetic. Expect more energy from this album too. There's also some Hip-Hop tracks on there as well. But believe me when I tell you, it's about to be a revival of RapRock." Vyrotek did not want to tell MME the lyrical theme of the album because he felt it was "to early" and it may spoil the release. When Vyrotek was asked about the release date of his first studio album, Vyrotek replied with "I'm not even going to SET a release date until the album gains momentum. And by that I mean a large scale of promotion. I'm talking radio singles, possibly video airplay, and lots of press involved. I'm aiming to go Diamond with this record because I feel it's THAT good." Vyrotek is still in the writing/recording process of his album and a release date has not yet been set, but expect it to be out during the Grammy eligibility quarter of 2013.