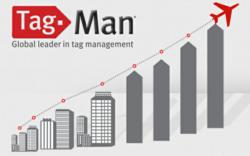 Move to 'year round' display drove a 15% increase in revenue and a 12% decrease in cost per sale - Air New Zealand
New York, New York (PRWEB) December 10, 2012
TagMan, the most used, most advanced and most proven Tag Management and Marketing Data Platform, is pleased to announce its continued expansion in the travel and hospitality category by signing up over 20 Travel, Leisure & Hospitality clients with digital properties in over 80 countries. Today's announcement follows TagMan being awarded the "Most Innovative Established Company" and "Most Innovative Business to Business Company" at the PhoCusWright Travel Innovation Summit last month. TagMan's clients now include many of the top online travel brands, including Travelocity, Air New Zealand, Virgin Atlantic, TUI Travel Specialist Holiday Group, EasyJet, and Cheapflights.com.
"Travel, Leisure and Hospitality clients refer to our proven ability to increase site speed, prevent overpayment of Cost per Acquisition (CPA) commissions, and unlock larger, more robust data sets for cross-channel attribution, personalization, and retargeting, all as reasons for choosing TagMan over our competitors. The increases in bookings our clients are seeing as a result of our solution validates their decision," says CEO Jon Baron.
In the highly competitive, highly transactional travel sector, even minimal site delays can cut sales significantly. TagMan's patent-pending technology, which increases site speed and eliminates the risk of slow or unresponsive sites often caused by tags, has given travel clients the reliability they need to capture every sale and stay ahead of the competition with the proven ability to decrease page load time up to 42%.
TagMan has also proven massive ROI benefits for customers by managing CPA commission payments across all digital channels. When affiliate marketing accounts for approximately 30% of bookings made through online travel websites, it's no surprise that TagMan travel clients have saved six-figures from better commission management and clean data best practices alone.
In addition to page speed and commission management, clients have been able to use TagMan's Marketing Data Platform to maximize cross-channel marketing effectiveness and power personalization through TagMan's one stream of independent, clean data. TagMan data has helped clients develop interest-based planning tools, analyze 'look-to-book' ratios, offer social travel planning and booking, and enabled Air New Zealand to increase revenue by 15% while decreasing cost per sales by 12% with media mix optimization tools. Click here to read how Air New Zealand was able to achieve these drastic revenue gains by moving to 'year round' display.
"Big data is only valuable if used and executed in the right way. By implementing TagMan's solution, we were able to react and employ an efficient and effective test and learn process which enabled us to use our customers' conversion data to sew a thread through the non-linear customer journey." Chris Allison, Online Sales Manager, Air New Zealand.
"We've focused heavily on helping drive revenue and simplifying the often sophisticated deployment needs of online travel, leisure and hospitality companies. Our T, L & H solutions incorporate constantly evolving best practices we've learned over the years working with our clients on their tag management and marketing attribution challenges." says Ron Brien, SVP of Marketing at TagMan.
About TagMan:
TagMan is the most used, most advanced and most proven Tag Management and Marketing Data Platform. As the Global Leader in Enterprise Tag Management, companies use TagMan to master the complexities of web analytics, ecommerce and marketing data, and ePrivacy. With Tagman, clients can efficiently manage and unify tag based technologies to produce one independent stream of clean marketing data from all channels. More than 250 enterprise websites across all major industries including Travel, Leisure& Hospitality, Fashion Apparel, CPG, Consumer Electronics, Financial Services, Pharmaceutical, and Telecom make TagMan the go-to partner for achieving dramatic marketing ROI through effective marketing execution and a clear view of the entire consumer journey. Clients include Travelocity, Virgin Atlantic, Kellogg's, The Body Shop, Air New Zealand, and Vodafone. Find out more at http://www.tagman.com.