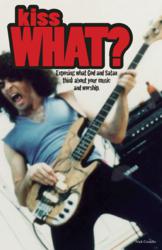 This isn't just another book about music and lyrics. It is so much more. A must read for every teenager.
Canandaigua, NY (PRWEB) December 18, 2012
Can music affects a teenagers decision making? An MSNBC News report on NBC News.com claims, "Teens who said they listened to lots of music with degrading sexual messages were almost twice as likely to start having intercourse or other sexual activities within the following two years as were teens who listened to little or no sexually degrading music."
Nick Costello has discovered both Christian and non-Christian teenagers open themselves up to a voice in music that can mold and shape their values, beliefs, lifestyle, attitudes and behaviors.
Adolf Hitler said, "If you tell a lie long enough, loud enough and often enough, the people will believe it."
What lies are teenagers being bombarded with in their music today? "Much of it is full of unhealthy, negative, misleading lies, played loud and for long periods of time," says Nick.
For the Christian teenager, the Bible warns, "Bad company corrupts good character." (1 Cor. 15:33) The truth is, you become like those you hang around. too many Christian teenagers are hanging around some bad company through their music.
In KISS WHAT? Exposing What God And Satan Think About Your Music And Worship, Nick helps teenagers make wise music listening and song choices. It clarifies what makes good song lyrics. They can learn to discern what is acceptable music and even entertainment choices for them as a believer and follower of what God teaches.
KISS WHAT? is a valuable teaching tool for parents and youth leaders concerned about the music their teenager listens to and the health of their spiritual walk with God.
Nick knows first hand the power of music to communicate a message. He spent 25 years in the music industry and attained his childhood dream of becoming a rock star. He now ministers as a youth communicator, keynote speaker and more.