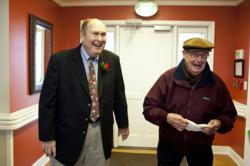 "Today we stop using the words 'nursing home' and we start using the words 'my house.'"
Gloucester, Va. (PRWEB) December 08, 2012
The standard for caring for older adults in Virginia changed Saturday when Riverside Health System's Heron Cove at Sanders opened its doors for the community to see for the first time.
"Today we stop using the words 'nursing home' and we start using the words 'my house,'" said F. Michael Martin, Riverside Health System's Senior Vice President of the Lifelong Health Division. "Take note of this moment. You are part of something very special."
So special, in fact, that Willard Scott, a TODAY show weatherman and host of the 100th birthday salutes, attended the community preview. Scott's visit was sponsored by Remedi SeniorCare, Spain Commercial and Clinical Resources, LLC.
"It's nicer than my own home," said Stephanie Harris, WAVY TV 10 anchor, who MCed the community preview day with Scott. "I would love to move into a place like this. It shows how far we're coming. This place is…home."
More than 200 people visited Heron Cove in Gloucester, located on Heron Cove Way off of Gloucester Courthouse's Main Street, and toured the two houses that replace Sanders Retirement Community's 50-year-old nursing home.
The houses, and style of care the residents will receive inside, are the first of their kind in Virginia.
"We are taking people who don't live normal lives because it's so regimented and giving them their life back," Martin said. "Here, they can get up when they want to, sleep when they want, eat when they want to."
Both houses in Heron Cove are designed like traditional homes and feature private bedrooms and bathrooms and open dining and living areas. At the heart of each home sits a family-style kitchen that's resident friendly and meant to bring every aspect of home life to the forefront of daily living.
"This is about independence," Scott said as he toured the houses. "That's so important. That's when they go downhill, when they aren't independent anymore."
Both homes in Heron Cove can accommodate up to 20 residents. One home will provide long-term nursing care and one will provide short-term rehabilitation.
"The bottom line is we are trying to make a difference in people's lives," said Martin.
Riverside broke ground on Heron Cove in November 2011. Sanders Retirement Community, one of Riverside's three continuing care retirement communities, includes assisted living apartments and independent living cottages. Both remain part of the campus.
"Heron Cove forever," Scott said. "The name is your home, and how sweet it is."
Virginia Lt. Gov. Bill Bolling will attend and serve as the keynote speaker at the official ribbon cutting of Heron Cove at Sanders on Tuesday, Dec. 11.
Steve Shields, CEO of Action Pact Development, the leading organization in household model development and implementation, will also attend and speak at the ribbon cutting. Prior to joining Action Pact, Shields served as the President and CEO of Meadowlark Hills Retirement Community in Manhattan, Kansas, and during his 17 years there was the driving force behind their transformation into the nation's premier household model campus.
The ribbon cutting is not open to the public.
Learn more about Heron Cove at Sanders at sandersliving.com.