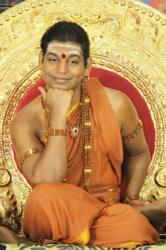 Person who is courageous enough to go through the fire of unknown only can be compassionate.
Los Angeles, CA (PRWEB) December 08, 2012
A new short video of His Holiness Paramahamsa Nithyananda has been uploaded on YouTube by His devotees, with a letter attached to it in the description saying that they are making a humble request to all to stop the baseless rumors and urging everyone to take responsibility to look deeper into the truths and results of HIs teachings.
The video can be viewed at : https://www.youtube.com/watch?v=Q50Ynkznbbc
The letter from Paramahamsa Nithyananda's devotees says:
"Nithyanandam,
When the Enlightened Master steps out of 53 days of imprisonment for no fault of his and in face of continued religious persecution.. What does he preach to his millions of followers?
A short Compilation of talks in the few days following His release....in June - July 2010.
On March 2 when the news of the scandal and many other anti-social events broke out it was a very strong lightning blow to millions of devotees, followers, spiritual seekers, disciples, ashramites, who could not have imagined or comprehended the viciousness with which the planned attack was carried out.
Under any normal conditions such an incident with such highly passionate followers of a Master(Buddha), Truths(Dhamma) and Dharma would have created huge retaliation and violence as we have continuously seen in the religious wars driven by the so-called religious heads, and societal heads all over India and all over the world from ages and more so in the present day and age with even more sophisticated ways of attacking each other.
But what happened with the Nithyananda Community which has been enriched and drenched in the Vedic Sciences, Vedic wisdom, Vedic culture, the Vedic Truths which Paramahamsa Nithyananda has been continuously preaching and inspiring people to follow?
None of the millions of devotees resorted to aggression or mob like retaliation. This is uncommon and surely commendable for such a large group of people to be under the restrains of Pure Knowledge, Pure Truth and simplicity!
This has been proven when so many millions of devotees, just by one word from the Enlightened Master Paramahamsa Nithyananda, decided to follow the dharmic path of relying on the Truth/Satya of our Vedic Truths and wisdom and remained Silent - while the negative forces were attacking and ransacking and even later while the negative elements have been repeatedly abusing the organization in several ways, physically and through rumor mongering through the media. This is surely a commendable happening, which has to be taken note of.
HUMBLE REQUEST TO ALL :
We sincerely request against the restraining of such a Positive Growth for the societies, by being influenced by rumors and baseless controversies of few agitated individuals. Instead we openly welcome the whole world to take the responsibility to look deeper into the truth of the results of these teachings and encourage the influence of these teachings to be spread far and wide for the betterment of humanity.
With the backing of tangible, verifiable and documented proof of individuals from all walks of life, we humbly request every human being to stand up for His Holiness Paramahamsa Nithyananda.
Thanking You
Sincerely,
Millions of Anxiously Waiting Devotees, Disciples & True Followers of Vedic Science"
About His Holiness Paramahamsa Nithyananda:
He is the most-watched spiritual teacher on YouTube.com with more than 16 million views, and the author of more than 300 books published in 27 global languages. Nithyananda has been named among the world's top 100 most spiritually influential personalities of 2012. An accomplished yogi and gifted spiritual healer, Paramahamsa Nithyananda has healed diseases ranging from migraine to cancer, often with a single touch.
For close to a decade now, Paramahamsa Nithyananda has been working with scientists and researchers to demystify the yogic sciences of the Universe, including kundalini awakening, DNA activation, brain-cell regeneration, levitation, materialization and yogic age-reversal.