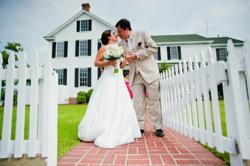 We want all vendors and coordinators to learn everything that our venue has to offer their brides
Manteo, NC (PRWEB) December 10, 2012
To mark Manteo House's participation in this year's Outer Banks Wedding Weekend, an Open House and Welcome Reception will be held on Thursday, December 13 from 3:30 p.m. to 6:30 p.m. The event is free for local wedding coordinators and will provide information on site rental and upcoming availability.
"Manteo House is a premier outdoor venue for an Outer Banks wedding," says Jessica Evans, the site's Marketing Manager. "We want all vendors and coordinators to learn everything that our venue has to offer their brides. We are excited to be a new member of the Outer Banks Wedding Association and an exhibitor in the upcoming show in January."
Representatives of the venue will be on hand to guide coordinators on a tour of the property and to answer any questions they might have about its grounds. Wine, cheese and light hors d'oeuvres will be served. The Welcome Reception and Open House is free of charge.
For more information about the event, coordinators can call Rebecca Evans at 252-256-1407.