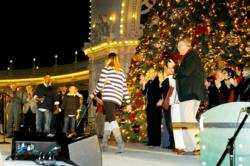 Holly Jackson, you're more than I deserve. You're all that I desire and everything that makes me feel whole. Would you like to be with me until the end of time?
San Diego, CA (PRWEB) December 13, 2012
Paul McQuigg is a Gunnery Sergeant in the US Marine Corps who was severely injured during combat operations in Iraq six years ago. He is still receiving medical treatment to this day, and his girlfriend, Holly Jackson, has stood by him every step of the way.
In his contest entry, McQuigg said, "Holly loves and accepts me for who I am, even with my injuries and everything that comes along with them. We've been together for over three years and my son, Sebastian, loves her and calls her Mommy."
While onstage at Balboa Park's Organ Pavilion and alongside the newly elected Mayor of San Diego, Bob Filner, McQuigg surprised Holly with a $10,000 Hearts On Fire diamond engagement ring awarded to him by Leo Hamel Fine Jewelers, and asked for her hand in marriage during the annual Opening Ceremony of the park's December Nights holiday festival.
In front of McQuigg's 9 year-old son, Sebastian, Holly said yes and hundreds of spectators cheered with excitement.
McQuigg's entry was selected from over 80 submissions because of his compelling love story. After making secret arrangements for Holly come to the December Nights Opening Ceremony with family friends, McQuigg and his son snuck away from the group and emerged on the Organ Pavilion stage minutes later. A surprised Holly was invited to join them in front of the crowd, where McQuigg proposed with an 18K white gold Hearts On Fire Beloved diamond engagement ring set with 1.20 total carats of the most perfectly cut diamonds in the world.
Leo Hamel, a San Diego native and owner of Leo Hamel Fine Jewelers & Jewelry Buyers, started buying and selling jewelry over 30 years ago. Leo Hamel Fine Jewelers has been voted the Best Jewelry Store by U-T San Diego readers each year since 2010, and has received numerous awards and accolades throughout its tenure in San Diego. Hamel, whose business is still family run after three decades, employs over 40 San Diegans, including a Hearts On Fire Champion, who has earned the title of top Hearts On Fire salesperson in the world for three years running. The retail jewelry store location near Downtown offers vintage jewelry, diamonds, and fine watches, while eight jewelry buying locations are scattered throughout the county in San Diego, La Mesa, El Cajon, Solana Beach, Oceanside, Escondido and Rancho Bernardo.