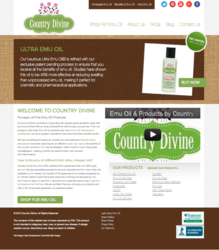 We're excited about the opportunity to introduce more people to the many benefits of emu oil...
Nashville, TN (PRWEB) December 11, 2012
Country Divine has launched a redesigned website at Lbemuoil.com that incorporates multiple communal features to better introduce customers to the benefits of emu oil. The site was renovated and updated with the intention of making it easier to learn about the oil and purchase products from the site.
New features include a blog aimed at educating people about the many benefits and uses of emu oil. They hope to create an online community via the blog through the use of relevant information and comments from interested parties. The company also incorporated more social media outlets including Twitter, Facebook, YouTube, Google+ and Pinterest. Their aim is to engage with customers, get feedback about their experiences, and keep them informed about specials and promotions. Their YouTube channel also includes several video testimonials highlighting experiences that other customers have had with their products. In addition, a streamlined shopping cart on the website allows interested customers to easily purchase a full line of products, cleansing products, and moisturizers and read reviews left by other users.
"We updated some design features of the website to reflect the natural and holistic content of our products," said Paul Binford, who initially developed the process for refining their AEA certified emu oil through LB Processors, LLC. He and his wife Katy have taken a leading role in building this budding industry. "We're excited about the opportunity to introduce more people to the many benefits of emu oil and want to make it possible for them to stay in touch with us and let us know how this terrific product is making their lives better. We are also offering 25% off many of the products in our store for the month of December to celebrate the launch of the new site and the holidays."
Emu oil is a natural product that has a wide array of potential applications. It includes a balance of essential fatty acids (EFAs) that are not produced in our bodies, making it a natural source of moisture for skin nourishment and a natural anti-inflammatory product. Pure emu oil is non-allergenic and penetrates deeply because it doesn't clog pores. It is helpful in soothing soreness and stiffness associated with over-used joints and has been used as an anti-inflammatory agent for burns and wounds. It can be used in facial moisturizers for wrinkles to help promote a youthful appearance. Because of its noncomedogenic properties, emu oil is also used as an aftercare product for piercings and tattoos. Some pet owners use it for dogs to relieve skin irritations because of its all-natural and non-toxic qualities.
Those interested in trying the product line may wish to purchase the New to Emu Sample Pack, which contains an array of products for use in daily skin care. Product samples in the pack include AEA Certified Pure Emu Oil, 750mg ULTRA Emu Oil® Gel-Caps, Country Divine Hydrating Omega Hand and Body Lotion, Glucosamine Muscle and Joint Cream, Country Divine Hydra-Natural Facial Moisturizer, and Country Divine Unscented Lip Balm.