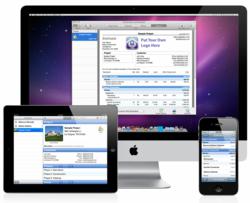 Ogden, UT (PRWEB) December 18, 2012
Wasatch Digital Media today introduces Construction Cost Estimator for the Mac, which helps contractors prepare estimates for construction projects. The app saves time and money by letting contractors quickly and easily create an estimate and then email it to the customer as a PDF. Users in the U.S. and Canada may optionally install 3 different Craftsman Costbooks containing detailed cost breakdowns for over 30,000 common construction items. The Mac version of the app is available for $39.99 in the Mac App Store. The app is also available in an iPad version for $29.99, and an iPhone version for $19.99.
The following Craftsman Costbooks are available for purchase within the app:

National Construction Estimator
National Home Improvement Estimator
National Renovation and Insurance Repair Estimator
Joel Grasmeyer, founder of Wasatch Digital Media, stated "The world of construction cost estimating software has long been dominated by complex and expensive Windows software and ugly spreadsheets. Many of them cost hundreds or thousands of dollars, and they're not very user-friendly. Many contractors have been moving from PCs to Macs over the last few years, but they have been disappointed by the lack of high-quality business software. We would like to change that."
Construction Cost Estimator uses a clean, spacious user interface that makes creating estimates a pleasure. Users begin by entering some basic data about the project, such as the project address, customer contact info, markup rates, and tax rates. Users can also assign unique Phases and Areas (e.g. Kitchen, Bath, Exterior) to each project. Users can also create custom Cost Categories, such as Flooring, Electrical, and Plumbing. The app also provides full support for international currencies and units.
Users in the U.S. and Canada may purchase 3 different Craftsman Costbooks within the app that contain detailed cost breakdowns for over 30,000 common construction items. These reference volumes allow users to provide a cost estimate for work that they may not have done previously, or if they need to do a sanity check on cost estimates from subcontractors. Users can also copy cost items from the Craftsman Costbooks to their own Custom Costbook, and then edit the costs as desired.
Feature Highlights:
Fast and easy user interface for creating cost estimates
Customize multiple types of PDF reports, such as bid requests, estimates for the customer, and internal reports, and email them directly from the app
Add the logo and contact info for your company to create professional-looking estimates
Costs are organized by Phases, Areas, and Categories that can be customized for each project
Enter your overhead, profit, and tax rates for each project
Also create Cost Plus Fixed Fee estimates
Provides full support for international currencies and units
Construction Cost Estimator is designed for use by many types of contractors, estimators, and service companies, such as: general contractors, electricians, plumbers, builders, landscapers, roofers, painters, carpenters, heating and air conditioning, flooring, siding, tile, concrete, asphalt paving, bathroom and kitchen remodeling, deck builders, handyman services, pest control, real estate flippers and rehabbers, insurance repair estimators, and more.
Costs are neatly organized by Phase, Area, and Category, and each cost item is broken down into Material, Labor, Subcontract, and Other costs. Users can customize exactly which information to display in the estimate. Since many contractors use the same cost items over and over again, the app lets users create a Custom Costbook with saved cost items. This makes it easy to put together an estimate. For example, if you know that installing a certain type of tile flooring costs $3 per square foot in materials, and $1.50 per square foot in labor, you would just add that flooring to your Custom Costbook. Then if you need to add it to an estimate in the future, just choose that type of flooring from the Custom Costbook, enter the number of square feet, and you're done.
When it's time to present the estimate to the customer, the user can choose to email it as a professionally formatted PDF, or print a hardcopy. Users can create an unlimited number of custom report templates that are completely customizable. For example, a contractor might want to only show a top-level cost estimate to the customer with the markup rolled into the estimate, but he might want to create an internal report with the cost breakdowns and markup amounts shown separately to send to another employee within the company.
"Construction Cost Estimator has been designed to allow contractors to quickly and easily create professional cost estimates on site," stated Joel Grasmeyer of Wasatch Digital Media. "Take an iPad, iPhone, or Mac to the job site, and produce a clear and professional estimate that you can email directly to the customer."
Device Requirements:

Mac, iPhone, iPad, or iPod touch
Mac version requires OS X 10.8 Mountain Lion
iPhone and iPad version require iOS 5.0 or later
Pricing and Availability:
Construction Cost Estimator is $19.99 (USD) for iPhone, $29.99 for iPad, and $39.99 for Mac, and it is available worldwide exclusively through the App Store in the Business category. Review copies are available on request. The Craftsman Costbooks are available as in-app purchases for $49.99 each.
EXTRA LINKS:
Construction Cost Estimator
http://www.ConstructionCostEstimator.com
Purchase and Download (Mac)
https://itunes.apple.com/us/app/construction-cost-estimator/id480486857?mt=12
Purchase and Download (iPad)
http://itunes.apple.com/us/app/construction-cost-estimator/id480486428?mt=8
Purchase and Download (iPhone)
http://itunes.apple.com/us/app/construction-cost-estimator/id480486420?mt=8
Screenshot
http://www.ConstructionCostEstimator.com/img/[email protected]
App Icon
http://www.constructioncostestimator.com/img/[email protected]
CORPORATE IDENTITY:
Headquartered in Ogden, Utah, Wasatch Digital Media is a privately funded company founded in 2004 by Joel Grasmeyer. Joel is an active real estate investor with a background in software engineering. Copyright 2004-2012 Wasatch Digital Media. All Rights Reserved. Apple, the Apple logo, iPhone and iPod are registered trademarks of Apple Computer in the U.S. and/or other countries. Other trademarks and registered trademarks may be the property of their respective owners.