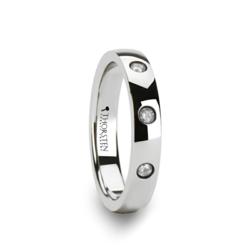 Irvine, CA (PRWEB) December 10, 2012
Larson Jewelers (http://www.larsonjewelers.com) is now carrying the latest designer Thorsten styles with diamond settings. With plenty of time left in the holiday shopping season, their timing could not have been better. This addition to their tungsten wedding bands line solidifies their reputation for having the most styles of alternative metal wedding bands and the best quality in the industry.
The new men's collection includes both white diamond settings and black diamond settings, which are very popular these days. One very cutting edge design is made by combining black ceramic with tungsten. The ring is made of black ceramic that has been polished to a brilliant shine and then beveled tungsten edges that are also polished to a beautiful shine, are added to give the ring a glint of silver. For the final touch, a round brilliant cut white or black diamond is added for additional elegance.
There is also a contemporary and sporty look that has been redesigned to make it more upscale. Due to the popularity of tungsten rings with carbon fiber inlay, Thorsten Rings decided to design these types of rings with a diamond setting as well. Unlike other designers, who take the easy way out and make this style using a separate piece of tungsten to set the diamond in and then glue, yes glue, that piece on to the ring, Thorsten's design is all one piece. This means there are no lines or gaps where the diamond setting is and this means one does not have to worry about the piece holding the diamond falling off. "The designers at Thorsten think of everything. They were told this style could not be made in one piece, but they believe that anything is possible, so they came up with a solution." says Jonathan Larson, co-founder of Larson Jewelers.
Just so the girls do not feel left out, they came out with some new twists on classic designs for women. They took the classic 4 mm wide domed wedding band with 3 stone settings and redesigned it to have all the good stuff and none of the bad. That means they started with a cobalt chrome ring, which has the same color as white gold or platinum, but is much more durable and affordable. Then they designed two versions. One version has three round brilliant cut diamonds and the other has three round cut pink sapphires. This will match a white gold or platinum engagement ring, yet not cost a fortune. The significance of the three stone settings is they represent the past, present and future of a couple's love.
Of course, all these new styles comes with Thorsten's unbeatable manufacturer's lifetime warranty, which covers size exchanges for life, as well as replacement in case of accidental damage. For a limited time, use coupon code XMAS30 to get an extra 30% off all Thorsten branded products at Larson Jewelers.
About LarsonJewelers.com:
LarsonJewelers.com provides the largest selection of tungsten carbide rings in the world. They also have large selections of palladium rings, ceramic rings, and cobalt chrome rings. At Larson Jewelers, we strive to provide the best customer service to make your shopping experience hassle free and informative. "Besides offering great products and great service, LarsonJewelers.com also offers the best prices," says Larson. "In fact, if you can find a better price, not only will we match it, we will beat it."