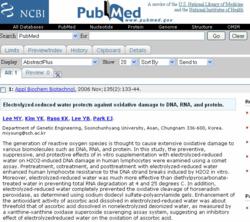 Dr. Robert C. Atkins: "Every condition, arthritis, diabetes, cancer is associated with over acidity. Obesity and Cancer are on the highest rise globally in the US. What a coincidence that the US food system is also the most highly industrialized."
Boca Raton Fl (PRWEB) December 10, 2012
Avoid the Christmas Rush and Get Big Savings On a Water Ionizing Machine
There is no better time to start drinking alkaline ionized water than this Christmas season with the big sales the Bawell water ionizer company is offering. The Bawell Company has cut down the prices on all four of their water ionizer machines.
Mr. Daniel Ocon of Bawell has said that "This Christmas sale started December 5 and will run through January 1st." He further stated that "We are offering very large discounts with one of our products now at $200 less and the other three at $400, $500 and $620 less." Now that is definitely a huge holiday saving.
Although a water ionizing machine can be quite expensive, the ionized drinking water it produces does offer a lot of health benefits to the user. Medical research has confirmed the effect of this water to act as an antioxidant and protect DNA, RNA, and proteins from Oxidative damage cause by free radicals. This is only but one of the many health benefits and reasons why people prefer to drink this water. Every Bawell machine also comes with a 60-day 100% money back guarantee and a lifetime warranty.
The four ionizer products from Bawell that are "on sale" this Christmas have a wide variety of features. To help consumers choose the perfect gift Mr. Daniel Ocon talks about the products one by one: "The Bawell Electrolyte (Model 799) is the cheapest water ionizer," according to Mr. Ocon. Its original suggested price is $799. It is capable of producing five water variants: Alkaline water level 3 (for coffee, tea, cooking food and direct drinking), Alkaline water level 2 (for rinsing food), Alkaline water level 1 (for introducing your body to alkaline water before moving to a higher level of alkalinity), Purified water (good for taking with vitamins and medicines and with formula milk), Acidic water (for facial wash and washing off fruits, meats, and vegetables to remove pesticides and kill bacteria).
"Those who need an additional level of acidity and higher PH and ORP values for drinking can try Model 1195" Mr. Ocon said. The Bawell Water Ionizer Premier Model has the ability to produce six water variants. Aside from the five water variants that Model 799 is capable of producing, Model 1195 provides acid water level 2 (for increased removal of pesticides and chemicals from fruits and vegetables, and also good for household sterilization and disinfection). This machine is originally priced at $1195.
There is also a Bawell Fountain Model, or the Model 1775, which Mr. Daniel Ocon describes as "a machine that has eight preprogrammed levels on each power setting." It can be set to weak alkaline, medium alkaline, strong alkaline, ultra strong alkaline, purified water, weak acidic, medium acidic or strong acidic. This model originally cost $1775, but is now heavily discounted with the Christmas sale. Also, when it is purchased during the sale period, Bawell is including three extra sets of free filters. This is in addition to the two filters that come with the machine. "That is about a total filter life of about four to seven years" said Mr. Ocon.
"Model 2195 or the Bawell Platinum Water Ionizer is similar to the Model 1775 in terms of the preprogrammed levels of water it can produce, but it has a higher range of PH and ORP (oxidation reduction potential) that is from +600.00 to -800.00" according to Mr. Ocon. The original market price for this model is $2195, but it can be purchased now at a highly reduced price. Just make a purchase now or before January 1, 2013 and it will also come with three extra sets of internal filters for free. In addition, one free external pre-filter is also included. These filters are extra freebies that come as an added extra to the two that are already installed into the machine.
Those who are interested in checking out these machines can visit the Bawell water ionizers Christmas sale. Click on a model number to view a video of each machine or view the different features and specifications that each model has to offer.
Now that Christmas is almost here, those who have not yet completed their gift buying activity can take advantage of Bawell water ionizers Christmas sale and enjoy the big savings while making sure that this Christmas the gift they give will be used for many years to come.