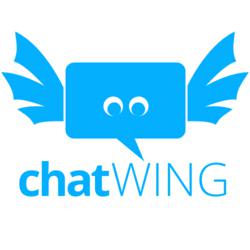 Cambridge, MA (PRWEB) December 08, 2012
Recently improved chat box by Chatwing, offers its users more customization freedom from the chat widget's color, form to a more advanced CSS modification. Chatwing team recognizes the users individualities and creativities the reason they included new customization options. Before, a web surfer can only change the color, size and name of the chat widget, yet due to Chatwing's vision of creating a competent and flexible chat tool, the improved chat app allows users to add background photos and upload music as part of personalizing the widget.
Chatwing users can also choose the web chat application's form depending on their communication need. Marketers can take advantage of the regular shoutbox and pop up window styles can be embedded in webs and blogs. These chatbox forms allow hundreds of chatters to interact which are ideal for promoting products and services. The improved web chat tool is flexible enough to allow private chat exchanges through the direct link URL type. Shortlinks are provided which online users can send to chosen chat buddies and start private conversations with.
Chatwing empowers web surfers with its social media features, making global connectivity easier and more accessible. Installation does not take more than a minute to accomplish. The installation process is easy to follow and understand. The admin can filter words to avoid profane terms from appearing in the chat window. The chat box is designed to synchronize blogging activities with social media interaction. Bloggers can share useful chat conversations to their Facebook walls with just a few clicks, or invite Facebook and Twitter friends in sensible discussions. These ways can greatly improve a blog's online presence as it helps the blogger generate more online friends.
Chatwing's reliable chatbox is also a good tool to gain more information and ideas for people who earns a living by writing articles and researches. It is human nature that people enjoy sharing their stories and ideas to those who are interested.
About Chatwing.com
Chatwing.com specializes in the new field of website chat. Over years, the Chatwing team has introduced live chat widget for hundreds and thousands of blogs. The Chatwing application bridges people from many parts of the world, creating global synergy through the Internet. The shout box can be installed in just seconds, and it can be used for varying purposes such as leisure and Internet marketing. It also allows a user to customize the size, color, and name of the widget. Chatwing is shoutbox is for everyone.