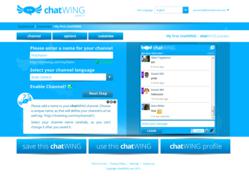 Chicago, IL (PRWEB) December 09, 2012
Facebook and Twitter have provided people with sites where they can interact and connect globally. Billions of people around the world spend numerous amounts online to update friends, write blogs and market products and services. However, these social media networks are still limited in terms of real-time communication. Chatwing team developed a chat widget that would be reliable and flexible enough to cater to the changing needs of online users for real-time interaction and connectivity.
Chatwing's improved chatbox has numerous useful features that provide its users with the communication advantage they need to boost online visibility and create strong networks on the web. Chatwing has a simple interface that allows users to use it with ease. Chatwing chat app is compatible with most website and blog platforms. Installation can be accomplished by anyone in just a few seconds.
Chatwing free chat box is highly customizable allowing active web surfers to be at their most creative disposition. Chatwing shoutbox users can play with the chat tool's color combinations from the widget to the font colors. Users can adjust the size or choose a certain style that would fit their web theme. To personalize the chat app more, they can add attractive images as the widget's background. Furthermore, CSS customization option permits advanced modifications.
Reliability and flexibility are Chatwing's primary factors that separate it from other available web chat app on the Internet. Chatwing dev team continuously improves and develops Chatwing chatbox to give its users a unique chatting experience. Chatwing chat app is capable of holding thousands of users without compromising its platform speed. Chatwing chat tool can also accommodate group chats through its direct URL option.
Facebook and Twitter users can easily participate and share their thoughts through chat forums by logging in with their existing accounts. Chatwing chatbox also recognizes other users need for privacy, they can still log in and join chat activities by signing in as guests.
About Chatwing.com
Chatwing.com specializes in the new field of website chat. Over years, the Chatwing team has introduced live chat widget for hundreds and thousands of blogs. The Chatwing application bridges people from many parts of the world, creating global synergy through the Internet. The shout box can be installed in just seconds, and it can be used for varying purposes such as leisure and Internet marketing. It also allows a user to customize the size, color, and name of the widget. Chatwing is 100% free for everyone.