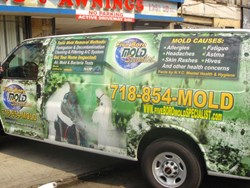 NYC Mold Inspection Companies See Rise In Services Due to Hurricane Sandy's Flooding
NYC, NY (PRWEB) December 09, 2012
New York City Mold Inspection and Mold Removal Company Introduces Insurance Companies To A New Reporting System As Insurance Claims Increased Demand From Hurricane Sandy's Aftermath.
Five Boro Mold Specialist, the premier provider of NYC mold inspection, mold detection, and NYC mold removal services in the New York tri-state region, announces a new mold inspection and mold testing reporting system in lieu of Hurricane Sandy, of which is accepted by most major insurance companies. Mold companies have very stringent rules regarding what is covered in a mold inspection, a mold test, and proper mold removal and eradication services, especially now after Hurricane Sandy and the clean up at hand.
First of all, they expect documentation that the home or business owner applied due diligence in preventing mold, because of Hurricane Sandy, things are a little different. Essentially, some evidence of preventative measures must be produced that shows the insurance company that the property owner deserves full mold damage coverage. The new reporting system is user friendly and provides easy reading to both the insurance company and home or business owner. The report contains a tremendous amount of information about every aspect of each clients specific mold inspection and mold testing procedure and processes there of.
A spokesperson for the company commented on how well insurance companies have received these changes so far. The goal of Five Boro Mold Specialists mold inspection and mold testing system is to spare the home or business owner the general hassles of dealing with demanding insurance companies . With insurance companies, it is all about documentation; for this reason, the company's mold remediation experts will help the customer come up with all of the proper documentation that will help the customer get what they need from the insurance companies, more so now than ever because of flooding and water damage caused by Hurricane Sandy.
he whole idea behind the concept of this new mold test reporting system is to make the whole mold test and mold removal experience as bearable as possible for the customer under these strenuous circumstances. With the stress that the customer must already be going through with a NYC mold removal and NYC water damage clean up from Hurricane Sandy, the added stress of dealing with the regulations of an insurance company tend to put people over the edge.
For further information about this new reporting system, contact: