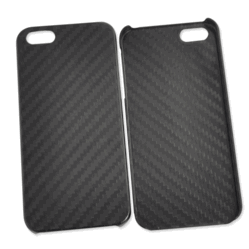 Genuine carbon fiber case is lighter, stronger and more durable to protect iPhone,iPad and Galaxy.
(PRWEB) December 09, 2012
The Shenzhen Esorun Technology Co. Ltd has manufactured a fantastic iPhone 5 case which is becoming really popular these days, using one kind of material with new technology which is called carbon fiber. The use of carbon fiber cases is important to keep an iPhone safe against dust and unwanted scratches. These cases are strong and durable. They cover the iPhone and keep it completely protected against any kind of pressure or thump. The iPad mini carbon fiber cases are also popular equally. Shenzhen Esorun Technology Co. Ltd produces the best quality carbon fiber cases for the iPad to remain well protected. These cases are popular among the users of iPad and iPhone because they find them really useful.
A resent survey among the iPhone users who don't use any cover and ones who use iPhone 4s carbon fiber cases shows that the users of the covers benefit more. As noticed by the survey conductors, the iPhones, with the carbon fiber cover, have survived longer and they remain completely scratch less. These carbon fiber covers are very light, despite of being durable, and so they never add up to the weight of the phone. The smart phone users know the horror of carrying their touch screen mobiles in tight storage places. These covers can surely protect the phone in this kind of situation.
There are a lot of options available with the iPad carbon fiber cases from Shenzhen Esorun Technology Co. Ltd. They are known for manufacturing the best quality items, and these cases are no different. In the market, these carbon fiber cases are sold frequently, because the new age users are very particular about their phone's protection. These covers are available for not only iPhones, but they are also available for iPad mini. The cases have different color options, and designer models. The users can find anything they are looking for in terms of appearance of the case. This makes their gadget look fashionable too.
The popularity of Galaxy S3 carbon fiber cases is also increasing fast. The Galaxy S3 is a very modern and advanced phone. It has great features, and it offers flexibility to the users. This is why the use of carbon fiber cases for this phone model is important. The covers protect the phone completely, and keep the Galaxy S3 clean and properly working. The Shenzhen Esorun Technology Co. Ltd makes the best cases for these smart phones and pads, and their products are completely trustworthy.
About Shenzhen Esorun Technology Co. Ltd.
Shenzhen Esorun Technology Co. Ltd. is a professional technology company that provides a wide range of iPhone and iPad accessories, and other gadget accessories such as power banks, wireless external hard drives,Bluetooth speakers, fly mouse and more.