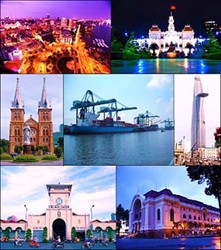 At the moment, the most popular tour in Ho Chi Minh is Mekong River Cruise
(PRWEB) December 11, 2012
Smile Travel Vietnam is making an on-going effort to introduce the image of Ho Chi Minh City – Vietnam to international friends. Therefore, it has launched a special promotion program, which discounts by 35% for tours in Ho Chi Minh city. The company ensures to provide customers with the high quality service at good prices. At the moment, the most popular tour is "Mekong River Cruise." It is noted that the discount for each tour is up to 35%.
More and more tourists are coming to Vietnam on holiday. Once visiting this beautiful country, tourists cannot skip an ideal tourist attraction, Ho Chi Minh City Travel. Situated at the Watergate in Mekong River Delta, Ho Chi Minh City is also called Saigon, which is the center of commerce, technology, culture, and finance. Despite not being the capital of Vietnam, it is the biggest city in the country.
As one of the most wonderful cities in Asia, Ho Chi Minh City is witnessing an increasing number of tourists every year. As the diamond of the Far-East, it owns magnificent skyscrapers, ancient pagodas, and unique foods.
Coming to Saigon, people can easily seek luxurious hotels and malls. There are a variety of traditional markets, which are located in the center of the city. Tourists can discover its mystery when having a tour around the city. They can sit in a cyclo to go sightseeing along beautiful streets.
People who are interested in discovering traditional beauty should visit Cho Lon and China Town. Going there, they have opportunities to visit many ancient temples and pagodas. Visitors will be deeply impressed by many spots, namely Reunification Palace, Ben Thanh Market, and Cu Chi Tunnels.
As the destination of shopping lovers, Saigon has long been renowned for its unique handicrafts, interesting souvenirs, and fashionable clothes. Along streets are good coffee shops. With various shopping malls, supermarkets, spas, restaurants, night clubs, karaoke services, and theatres, Saigon is considered as one of the most ideal destinations for tourists worldwide.
For more details on tours in Vietnam, tourists can get access to the website of Smile Travel Vietnam.