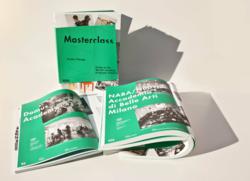 "We are honored and pleased to be included among the very best graduate schools offering master's degrees in product design
Baltimore and Milan, Italy (PRWEB) December 11, 2012
Domus Academy and Nuova Accademia di Belle Arti Milano (NABA) have been named among the world's top 30 graduate schools in Masterclass: Product Design, Guide to the World's Leading Graduate Schools, a book by Frame Publishers whose flagship publication, Frame, is a global reference for designers and interior architects. The book recognizes NABA and Domus Academy, members of Laureate International University's Center of Excellence in Art, Architecture and Design, for their master's degree programs in product design.
"We are honored and pleased to be included among the very best graduate schools offering master's degrees in product design," said Alberto Bonisoli, chief academic officer of Laureate Italian Art and Design Education. "Our students, and the companies that hire our graduates, know that our design programs are among the very best in the world. This book provides further evidence of the quality of our programs, and underscores the importance of having a faculty composed of professionals who know first-hand the skills and practical expertise needed to have a successful career in the design industry."
The guide, aimed at current bachelor's degree students, recent graduates and professionals looking for a specialization, provides an overview of the schools and their product design programs. Featured schools were selected based on a list of criteria including the quality of graduates' work, the employability and success of former students and the reputation of lecturers in the design industry.