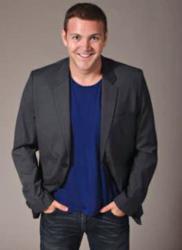 All the new programs out there are full of bells and whistles, but they don't focus on educational fundamentals - as a result, they look fancy, but they perform dismally.
New York City, NY (PRWEB) December 14, 2012
National SAT scores fell to a four-year low this year, despite the fact that SAT test prep industry continues to grow. Billions of dollars are poured into SAT prep every year, yet student performance keeps dropping. Anthony-James Green, known as New York City's best SAT tutor, is launching a new program aimed at stopping this precipitous drop - at a price more affordable than any of the full-service options currently available on the market.
Green's clients pay $500/hour for his services, and Green is booked nearly 18 months in advance. He commands this rate for a simple reason: he gets the results that most programs fail to deliver. His students improve by an average of nearly 400 points, with many improving by 700 points or more. To combat the drop in national scores, Green is releasing his formerly clients-only methods to the public for the first time ever.
According to a statement made by the College Board, SAT reading scores for graduating high school seniors this year reached the lowest point in nearly four decades, reflecting a steady decline in performance in that subject on the college admissions test. Green feels that the education system is not the only entity to blame:
"How can there be a decline in test scores when people are spending over 2X the amount of money they did on SAT prep only a decade ago? With all the advances in technology and education that we can harness, how are students still floundering? The answer is simple: The test prep companies are using strategies that are ineffective and basically useless," says Green.
"Test prep firms know that parents and students worry about the SAT, so they spend countless millions of dollars on advertising to attract students to their services. They're more concerned with advertising their product (which is incredibly profitable) than they are with providing a product that works. The fact that SAT scores have hit an all-time low is proof that conventional classroom learning is not working." Green has long been on record as a staunch advocate against classroom learning.
"It doesn't work in our schools, and it certainly doesn't work as a private service," says Green, "but it's easy to sell. Pack a 30 kids in a class, charge them each $2,000, pay a teacher a few hundred bucks, and you have about $55,000 left over to buy more ads. There's a reason parents choose these classes, and it's not because they work - it's because they're advertised."
Green feels that if students want to see real results, they need a customized SAT study plan which utilizes all the recent developments in accelerated learning and education.
Green, whose test prep methods have consistently helped New York City high school students improve their scores by more than 380 points, is now releasing his award-winning strategies to the public through his new self-study program, The 90 Day SAT Prescription.
"I get really upset when I think about how many students have received lower scores than they deserved simply because they studied under the wrong framework or have stressed unnecessarily over an exam that shouldn't be stressed over at all," says Green. "Through my program, students identify their own strengths and weaknesses, then utilize their own learning styles to apply my strategies and tactics. It's easy to do, and it costs about $1,000 less than any other option."
Most students become flustered and confused when dealing with the ambiguity, complexity, and intentionally-designed trickery that the SAT reading sections embody. Green believes that the critical reading sections are difficult because students make them difficult for themselves.
"Parents and students deserve to know the truth about the SAT, and the truth is that implementing the right strategies with hard work and determination can help almost any student see a drastic improvement in his or her scores."
Green will be launching his 90 Day SAT Prescription January 3rd. The program will cost $379.95, but students and parents who sign up for Green's pre-launch list (free on his site) will receive a $100 discount on their order. This discount is only available to those who sign up before January 3rd, 2013, and can be accessed here:
Green is also giving away free guides, tutorials, and more through his personal booking website at:
Green has worked with over 320 students one-on-one, launched and sold his own SAT tutoring firm, authored four books on the subject of SAT prep, and designed the wildly popular SAT vocabulary software:
Green lives in downtown Manhattan, where he works with his students full-time when he's not developing new tutoring software programs and guides.
###