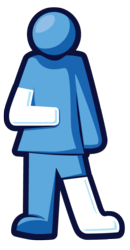 Cool the Itch and Stop the Odour from Under a Cast
Toronto, Ontario (PRWEB) December 17, 2012
Bescot Healthcare Canada announce that Shoppers Home Health Care have joined Quebec Retailer Pharmacy chains Uniprix, Unipharm, Proxim, Proximed, Brunet, Clini Plus and Familiprix in carrying Cast Comfort.
Cast Comfort is the aerosol spray that simply and easily cools the itch that can occur under a plaster or fiberglass cast or split, and also stops the unpleasant odour that can occur due to build-up of moisture.
Until now patients suffering with "the itch", usually in the most inaccessible place under the cast, would have to resort to pouring water down between the skin and waterproof cast and then potentially attempting to dry the skin with a hair dryer. The one thing many patients turn to, which their healthcare professional adamantly opposes, is to use a ruler or knitting needle in an attempt to get a short period of relief.
Cast Comfort is a cooling aerosol spray of specially formulated ingredients to boost comfort:
Medical grade alcohol cools the itch immediately;
Talc soothes the skin and a special drying agent helps control moisture;
Sodium bicarbonate and a light fragrance absorb and eliminate odour.
Cast Comfort is located on shelves next to various "cast covers" that can help prevent a cast or splint from getting wet when taking a bath or shower.