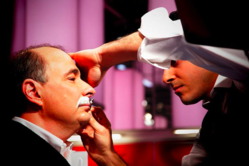 eShave's Master Barber was on hand to shave off David Axelrod's mustache after vowing to 'Slash the Stache' if C.U.R.E. received one million dollars in donations during November.
New York, New York (PRWEB) December 10, 2012
On MSNBC's "Morning Joe," viewers watched facial hair history in the making. President Obama's senior campaign advisor David Axelrod went on the program after launching 'Slash the Stache' fundraising effort to benefit epilepsy research for CURE (Citizens United for Research in Epilepsy). eShave's Master Barber was on hand to do away with the stache and today, Axelrod is proudly stash (and razor-burn) free.
Axelrod promised if he could raise $1 million during the month of November, he would come on CNBC's "Morning Joe," and 'Slash the Stache.' In the course of the month, over 2,608 donors pledged $1,051,679. High profile donors included real estate tycoon Donald Trump, who donated $100,000, and Dallas Mavericks owner Mark Cuban, who gave $200,000. Other donors included President Obama, George Clooney and Tom Hanks. With the goal met, Axelrod made good on his promise. With millions of viewers watching, Axelrod and his wife Susan appeared on the program for this momentous shave while eShave's Master Barber did away with the mustache.
"The team at eShave was very proud to have been selected to shave off one of the most famous mustaches in American politics today," said Danielle Malka, President/Founder of eShave. "We are happy to take part in this charitable effort and would be happy to shave off another mustache when CURE reaches $2m."
Although Scarborough offered to help out with the shave, Axelrod said he 'was not going to let Joe Scarborough near my neck with a straight razor.' This is where the professionals from eShave stepped in. Since 1996, eShave has been known as the leading experts in men's shaving. It was no wonder that the brand was sought out to shave Mr. Axelrod's mustache on live TV.
To view the momentous shave-occasion, please click here.
About eShave:
Since 1996, eShave has been "All A Man Needs for the best shave Ever." Specializing in the finest quality grooming products and accessories, all of which are handmade in New York City, eShave brings a modern touch to the most traditional way of shaving. The award-winning brand is recognized around the globe for delivering the smoothest shave possible free from razor burn, shaving-related bumps and irritation, ingrown hairs, and the 5 o'clock shadow.
eShave products are available online at http://www.eShave.com, eShave New York at Rockefeller Center and in select upscale retailers/spas worldwide. 1-800-94-SHAVE / info(at)eShave(dot)com
###
Media Contact: Shelly Cellak | shelly(at)burgeonagency(dot)com | 773.398.6154