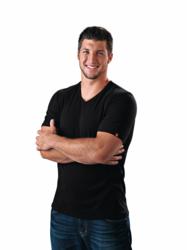 Souderton, Pennsylvania (PRWEB) December 10, 2012
Tim Tebow, philanthropist and NFL quarterback, will be the keynote speaker at Plumstead Christian School's annual Founders Forum on Monday, April 15, 2013 on the campus of Calvary Church in Souderton, PA.
As a college quarterback Tim Tebow led the University of Florida to two national championships, earned a Heisman Trophy, and was a first-round selection in the 2010 NFL Draft. As a Denver Broncos quarterback, Tim led the team to the 2011 NFL Playoffs for the first time in six years. Tim became a New York Jets quarterback at the start of the 2012 season.
Through his college and professional career Tim has garnered the respect and admiration of millions of fans because of his strong work ethic and his courage to share his Christian faith openly. His 2011 memoir "Through My Eyes," coauthored with Nathan Whitaker, spent twenty four weeks on the New York Times best seller list and was both the #1 Sports Book of 2011 and the top selling religion book of 2011.
"We are honored that Tim Tebow will be coming to Bucks County to speak with our students and the larger Plumstead Christian School community," said PCS Head of School Patrick Fitzpatrick. "Tebow's commitment to Christ and his compassion for children who are hurting, as demonstrated through the Tim Tebow Foundation,TM mirrors our own mission to teach students to think biblically, serve effectively, and lead Christ-centered lives. I am confident that his message of faith, family, and football will challenge and inspire our community just as the way he lives his life on and off the field has been an inspiration to millions."
Tim Tebow will be the first professional athlete to speak at Plumstead Christian School's Founders Forum. The school has a rich history of attracting some of the nation's most influential Christian voices including the 2012 Founders Forum keynote speaker President George W. Bush. Past speakers also include former Alaska Governor Sarah Palin, Vice President Dan Quayle, columnist and commentator Cal Thomas, author and former missionary Elisabeth Elliott, and Christian leader and co-founder of the Moral Majority, the late Jerry Falwell.
Tim will appear at two back-to-back events during the evening: a catered dinner that begins at 5:30 PM where he will engage in a twenty five minute moderated question and answer session, and the main Founders Forum beginning at 7:40 PM where he will participate in a forty minute moderated question and answer session. Both events will be held at Calvary Church in Souderton, Pennsylvania, and tickets for both events are available at pcs.thundertix.com. The dinner and the main forum will complement each other – each providing unique experiences for those who would like to attend both. Tim will also participate in a photo opportunity for sponsors of the event. Please direct all serious inquiries about remaining available corporate or individual sponsorships to Patrick Fitzpatrick at 215-766-8073 or at foundersforum(at)plumsteadchristian(dot)org.
About Plumstead Christian School
Plumstead Christian School is in its 65th year as a Christ-centered, nondenominational, college preparatory school that serves prekindergarten through 12th grade students on two spacious campuses in Bucks County, PA. The school's mission is to provide a caring community where students are educated to think biblically, serve effectively, and lead Christ-centered lives. Through the years Plumstead Christian School has developed a solid reputation in academics, athletics, and the arts. Ninety-eight percent of all recent graduates attend four year colleges and universities, and many students earn college credit–top students as much as forty five credit hours through the extensive Advanced Placement courses offered at PCS. Recent graduates have been accepted to a variety of top ranking schools including Drexel University, Gordon College, Grove City College, Lehigh University, the Massachusetts Institute of Technology, Taylor University, Temple University, the United States Air Force Academy, the University of Pennsylvania, Wake Forest University, Wheaton College, and Villanova University. More information about Plumstead Christian School can be viewed online at http://www.pcspa.org.