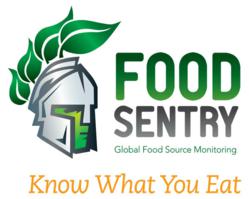 Every single day we find information that should go directly to consumers, and not be delayed by or buried in a government bureaucracy.
Albuquerque, NM (PRWEB) December 10, 2012
Food Sentry, a membership-based online food safety service created to inform and help protect individual consumers and their families from food-borne illness, has launched a preview website at http://www.foodsentry.org. The preview site provides information regarding the company's expertise and mission, and includes a Charter Membership program offering a discounted price to early adopters.
With its team of highly experienced food researchers and analysts, Food Sentry scans the globe seeking out problem foods headed for United States shores. Food Sentry also monitors U.S. food production.
"One out of six Americans will be stricken with food poisoning this year," said John Cousins, the CEO and a Food Sentry founding partner. "With over 70% of our seafood and 35% of our fresh produce being imported every year, we all face increasing exposure to foods that have come from places that we know have dangerous inconsistencies in their food production practices. Combine that with the increasing frequency of food-borne illness outbreaks arising domestically and abroad, and there are very good reasons for people to exercise more caution in their food shopping decisions."
Food Sentry's complete food risk rating system will go live in January 2013. Members will gain access to the Food Sentry Food Risk Rating system and receive Food Sentry import alerts, recall alerts and warnings both on their computers and on mobile devices. In addition, they will get full access to articles that explain in easy-to-understand terms the myriad risks to food that are in the everyday marketplace, and what can be done to reduce those risks.
"The FDA can only inspect about 2% of food imports," said Scott Witt, a founding partner and Chief Operations Officer. "Obviously, that's not nearly enough. So our analytic team has been collecting food risk data for years from hundreds of sources in over 150 countries. From this, we've created a proprietary algorithm that is highly predictive of where we can expect to find problems."
After successfully helping the FDA nearly triple their success rates in finding bad food during inspections, the Food Sentry partners decided to take the information they developed directly to the people who would benefit by it most – the consumer.
"Every single day we find information that should go directly to consumers, and not be delayed by or buried in a government bureaucracy," said Witt.
Food Sentry applies more than 25 years of collective experience to finding, identifying and analyzing risks to food in the global market. The analyst team currently works in 15 languages, focusing on the countries where most imported foods come from.
"A very large part of the information we need is not in English, and it never will be," said Witt. "We know what to look for, where to look and how to analyze the data, but it all starts with our ability to work successfully in multiple foreign languages."
"What we do is complex, but what we hope to accomplish is quite simple," concludes Cousins. "If we each chip in just a little bit, Food Sentry can quickly and directly provide critical, timely food safety information to its members. This will inform their purchase decisions, which in turn, we hope, will compel food producers to meet consumer demand for foods that are grown, prepared, packaged and shipped with the utmost regard for consumer safety."
For more information on Food Sentry, visit http://www.foodsentry.org or "Ask the Sentry" on Facebook or Twitter.
About Food Sentry
Food Sentry is the most powerful food safety tool ever placed in the hands of the American consumer. Based in Albuquerque, N.M., Food Sentry and its partners promote and service a unique food safety rating system that identifies risky foods in the grocery store or while abroad via global food source monitoring. The food rating system will launch with the official Food Sentry website in January 2013 to help make more informed shoppers out of each and every one of us.